About-France.com
- the connoisseur's guide to France
Discover France ►
Essential pages
Travel in France
Where to go
What to see and do
►
You are here :
France
› Coronavirus 2021
Covid in France - 2021 - Towards the end of lockdown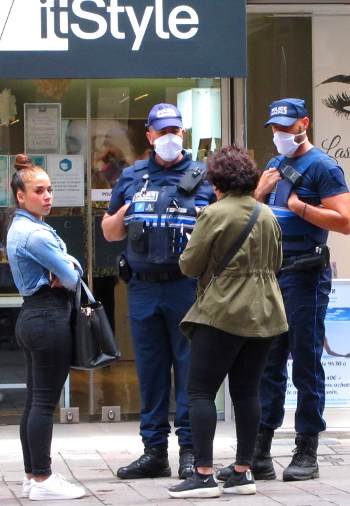 Masks in style... and obligatory in some places and for some professions .....
At the
start of May 2021
, France remains under strict Covid rules. There is hope that most rules will be relaxed by the start of summer, and that come July life will be back to something near normal for a large part of the population.
From
19th May
, shops, cinemas and museums will start to reopen, and the curfew hour will be extended from 7 pm to 9 pm.
From
9th June
, curfew hour is pushed back to 11 pm, and cafés and restaurants will reopen - with social distancing measures. Trade and business fairs and conventions can resume, with a maximum of 5000 visitors, and within social distancing rules..
From
30th June
, most things in France will be open subject to the restrictions of the new post-covid normal.
Tourism is reviving
France's tourism industry is gearing up to welcome back many of the tourists and visitors who have not had much of a holiday since 2019.
International borders
are opening up and small numbers of vehicles and campervans with foreign registrations are appearing on French motorways. Generally speaking, people entering France from abroad must show proof of a
negative covid test
dated less than 72 hours before their entry.
How the situation will evolve remains unknown. Travel between other countries and France depends on regulations on both sides of the international border. A common European travel attestation, a "covid passport", is expected before the summer. How long it remains necessary to have a negative test result from less than 72 hours before travelling is also an unknown.
Much will depend on the speed at which Covid infections continue to fall, which in turn depends to a large extent on the speed of the vaccine rollout in different countries. As of 6th May, a third of the adult population of France had received at least one covid jab, and the rate of vaccination is still gathering speed.
Night clubs and discothèques will remain closed beyond 30th June, and until further notice.
Meanwhile, many restaurants are surviving by serving carry-out meals, and with some fine spring weather coming on, picknicking is popular again.
Most museums and historic monuments, including the Louvre and the Château de Versailles, will reopen as from 19th May, but with strictly enforced limits on visitor numbers.
There are no travel restrictions within France, and most hotels are open (except for those that are normally closed out of season); most hotels will provide carry-out meals for guests to eat in their room.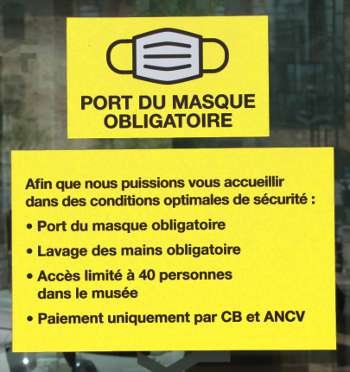 Museums may reopen soon, but only to people wearing a mask.....
Large out-of-town shopping malls have been closed, but smaller shopping centres, garden centres, DIY stores and small shops remain open for business. Most sports venues, and virtually all indoor sports venues, have been closed since the start of the year, and will not reopen until the coast is clear. All businesses and facilities that remain open are required to apply strict social distancing measures, and in most places the public has gone along with the rules, though inevitably there have been some who remain oblivious to the risks, and some who deliberately flout the rules.
The
vaccination campaign
in France was beset in its early days by problems, including a certain degree of scepticism with regard to the effectiveness of vaccinations. But with vaccination reticence falling and vaccination availability rising, the vaccination campaign has now gone into overdrive. On May 7th France vaccinated over 600,000 people in one day, and government targets of three million injections a week were being met. As of 7th May, 27% of the entire population (about 37% of the adult population) had received at least one jab.