About-France.com
- the connoisseur's guide to France
Discover France ►
Essential pages
Travel in France
Where to go
What to see and do
►
You are here :
France
› Coronavirus 2022
Covid in France - 2023 - a return to normal ?
Covid passes and masks. The rules
for 2023 - Visitors arriving from

China

must show proof of a negative Covid test taken in the 48 hours before arrival.

General covid requirements.
Proof of covid compliance
is no longer required at the entrance public places including museums. Facemasks however remain recommended for passengers using public transport.
Masks are no longer required in outdoor areas, though local authorities have the powers to require them n some crowded areas, such as markets, busy shopping streets, or beaches.
Covid passes are still required for entry to hospitals and care homes.
Since February 2022, "covid passes" have been renamed "vaccination passes", and only passes indicating that the holder is fully vaccinated (in most cases, that currently means three jabs) are accepted. A recent negative test result will no longer suffice
Proof can be provided in multiple formats; the easiest is as a QR code as provided by the European Union covid passport - either on a phone or on paper. France now also accepts British NHS Covid passes issued in England Wales and Northern Ireland. Visitors from other countries (USA, and others) are advised, and indeed may be required, to
obtain a French Covid pass
before travelling.
►
CLICK HERE
for full details about obtaining a French Covid pass. This can be easily done online, as long as you satisfy the criteria. There is no charge.

Since
February 2022
,
Most covid restrictions have been lifted, except for the requirement to wear a facemask on public transport, and in hospitals or care homes.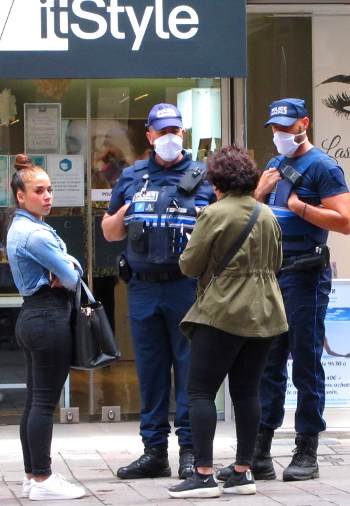 Masks in style... and obligatory in some places and for some professions .....
Generally speaking, everything is now open for business, though social distancing measures and anti-crowding restrictions are still aaplied in some locations.
Trade and business fairs and conventions have resumed, with a maximum of 5000 visitors, and with social distancing rules..
For some sites, reservaton may be required / recommended, but in the current state of flux and uncertainty, which is not limited to France, details need to checked on an attraction's individual website.
Tourism is reviving
France's tourism industry is gearing up to welcome back many of the tourists and visitors who have not had much of a holiday since 2019.
International borders
are open - subject to a traffic-light system - and vehicles and campervans with foreign registrations have made a new appearance on French motorways.
Much will depend on the speed at which Covid infections continue to fall, which in turn depends to a large extent on the speed of the vaccine rollout in different countries.
With over 80% of the adult population fully vaccinated, France is among the most vaccinated countries in Europe.
There are no travel restrictions within France.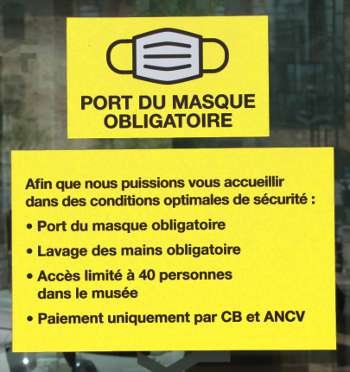 Museums have reopened, but often only to people wearing a mask.....