About-France.com
- the connoisseur's guide to France
Discover France ►
Essential pages
Travel in France
Where to go
What to see and do
►
You are here :
France
› Coronavirus 2020
Covid, Christmas and the New Year
.
In his message to the nation on 24th October, President Macron announced a road-map for the easing of restrictions for the end of 2020, and an outline of prospects for 2021.
In short, the President announced a three-stage plan.
Stage 1.
As from
Saturday 28th November.
All
shops
can reopen, subject to strict social distancing rules, and the current
going out
restriction allowing people only to go 1 km from their home for one hour per day (other than for vital shopping and other necessary tips) will be eased. From 28th November, people will be able to go up to
20 km
from their home, and for
three
hours. They will still need to fill in and carry an attestation.
Shops will be able to open on Sundays, but the
9 p.m. curfew
remains in place every day, for all. Bars and restaurants are not allowed to reopen. Churches and other religious buildings can reopen, subject to social distancing rules.
Ski resorts
cannot yet open.
Stage 2.
15th December
. The
20 km travel ban
will end, and people will be able to move outside their area.
Family gatherings
will be allowed, with the onus on families to take all necessary precautions.
Cinemas and theatres
can reopen, though the
9 p.m. curfew
will remain in place. However
ski resorts
will remain closed over the Christmas / New Year period.
Stage 3.
The
impact
of the relaxation of lockdown rules will be assessed at the start of January. If infection rates have fallen to
below 5000
new cases per day (they are currently around 20,000), then
restaurants and bars
will be able to reopen, as will
sports facilities
including ski resorts. It remains a big IF. Schools will be fully reopened.
June - France emerges from lockdown
.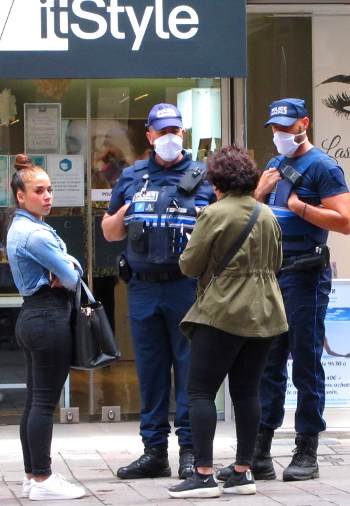 Masks in style... and obligatory in some places and for some professions .....
France is emerging from lockdown, and most people are happy with this.
France's chief scientific advisor stated on 5th June, that the virus was now under control, as the daily infection rate, which hit nearly 9,000 new cases a day at its peak, has now fallen by around 95% to less than 300 new cases a day He warned nevertheless against complacency, exhorting people to fully respect social distancing and face coverings rules, in order to ward off the possibility of a resurgence, which he said was one of four possible scenarios.
By way of comparison the UK's latest daily new case tally, as of 5th June, is 2412 cases.
During the two months of lockdown, restrictions on movement were severe, and
strictly enforced.
For the first month, people were not allowed to go more than 1.5 km (about a mile) from their homes, without a proper reason for doing so, such as to do essential shopping or to go to work, if they could not work from home.
For the second month, most of May, restrictions on movement were eased, and in parts of France where the virus was not very active, people were allowed to travel up to 100 km from their place of lockdown... though had to carry proof of residence when doing so. And during the whole of this period, cafés restaurants non-essential shops and businesses where social distancing was not possible, were obliged to remain closed. So too were museums, cinemas, concert venues and beaches – as well as parks and other places in urban areas where people tended to congregate.
The strictness of the lockdown, known in France as confinement, bore fruit, with the infection rate dropping sharply, and the numbers of deaths falling too. By the start of June, the daily overall covid-related death tally was down to well below 100 a day, and continuing to fall.
With the overall situation having seriously improved from the peak of the pandemic in early April, President Macron was able to announce further lifting of lockdown measures as from 2nd June, allowing many people's lives to return to a semblance of normal.
Shops have opened with limited access.....
From now on, travel in France is unrestricted and most shops have opened up again for business. Cafés and restaurants have been able to resume service subject to social distancing rules inside. Smaller museums have opened up again, with strict limits on the numbers of people inside at any given moment, and zoos and other outdoor attractions have opened up too. Beaches are all open too though with social distancing rules in place, and static sunbathing still forbidden on some particularly popular beaches, to discourage risky situations like the large gatherings as have been seen on some beaches in the UK and the USA since the lifting of restrictions. In most rural coastal areas, there particularly along the
Atlantic coast,
long empty expanses of sand provide plenty of room for people to socially distance themselves by a very wide margin
The trains are running again now, with a virtually full service back in place . However the wearing of face-masks is now obligatory in all forms of public transport
Shoppers are starting to return ...
As from mid June, France's borders with other EU countries reopened for tourist traffic, and most tourist infrastructures, including hotels, will be open again for business before the end of the month. The Château of Versailles and the medieval city of Carcassonne are among the many sites that have now reopend, though less visitors will be allowed in than before the pandemic.
Questions however remain. How fast will life return to normal? How many people will not be taking a summer holiday this year ? Will the predicted fall in foreign tourists in France be made up for by an increase in domestic tourism, as the French too stay home, or at least stay in their own country, more than usual? And even if attractions like theme parks have already opened up, will tourists be thronging to them in droves as they did in the past, or will many remain determined to avoid crowds at any cost for as long as the Covid-19 pandemic endures?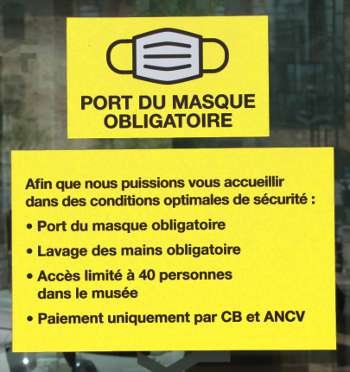 Museums too have opened with limited access, but only to people wearing a mask.....
In the first week after lockdown, shops have not been doing a roaring trade. There does not seem to have been any rush to make up for lost shopping days. While the French are now adjusting to the end of the lockdown restrictions, most people remain wary of the dreaded "second wave". Not all, of course. Life may be returning to a semblance of normal in France, but the pandemic is in no way over just yet, and the French government has warned that any restrictions may be reintroduced, nationally or locally, if and when things show signs of taking a turn for the worse.