About-France.com
- the connoisseur's guide to France
Discover France ►
Essential pages
Travel in France
Where to go
What to see and do
►
You are here :
France
› Coronavirus 2021
Covid in France - 2021 - Towards the end of lockdown
Covid passes
Proof of covid-compliance
is now required at the entrance to most events and attractions with a capacity of over 50 people. Covid compliance means either being double-vaccinated, or single-vaccinated with a single-dose vaccine, or else having had a negatie covid test within the previous 48 hours.
Proof can be provided in multiple formats; the easiest is as a QR code as provided by the European Union covid passport - either on a phone or on paper. Visitors from other countries (UK, USA, and others) are advised to have a paper document(s) attesting that they are double-vaccinated or have been tested negative. Documents in English or Spanish, with information that can be understood by French speakers, should cause no problems. Most venues are as keen to bring in visitors as the visitors are to get in, if not more so, so will happily accept vaccine cards from other countries that can be clearly understood. In the end, acceptance of foreign covid-compliance documents is all down to the person on the door or a particular venue.

In
August
2021
, France remains under strict though relaxed Covid rules.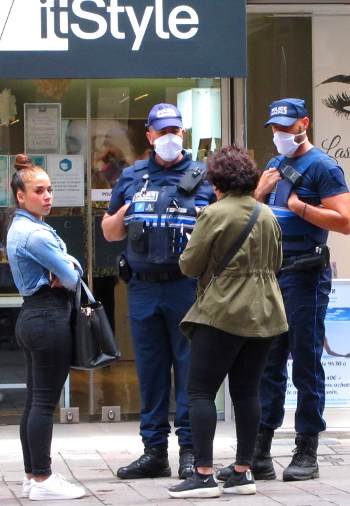 Masks in style... and obligatory in some places and for some professions .....
Cultural venues as well as restaurants and bars have all reopened - with social distancing measures. Trade and business fairs and conventions have resumed, with a maximum of 5000 visitors, and with social distancing rules..
For some sites, reservaton may be required / recommended, but in the current state of flux and uncertainty, which is not limited to France, details need to checked on an attraction's individual website.
Tourism is reviving
France's tourism industry is gearing up to welcome back many of the tourists and visitors who have not had much of a holiday since 2019.
International borders
are open - subject to a traffic-light system - and vehicles and campervans with foreign registrations have made a new appearance on French motorways. Generally speaking, people entering France from abroad must show proof of a
negative covid test
dated less than 72 hours before their entry.
How the situation will evolve remains unknown. Travel between other countries and France depends on regulations on both sides of the international border. Within the EU, the European Union travellers can cross borders using the common European travel pass.
Much will depend on the speed at which Covid infections continue to fall, which in turn depends to a large extent on the speed of the vaccine rollout in different countries.
As of 4th August 2021, 53% of the total population of France, and over 80% of adults over 40, are fully vaccinated.
There are no travel restrictions within France, and most hotels are open (except for those that are normally closed out of season).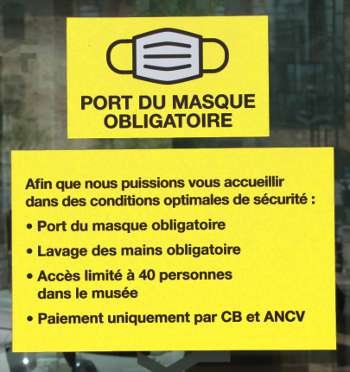 Museums have reopened, but often only to people wearing a mask.....
The
vaccination campaign
in France was beset in its early days by problems, including a certain degree of scepticism with regard to the effectiveness of vaccinations. But with vaccination reticence falling and vaccination availability rising, the vaccination campaign has now gone into overdrive.