About-France.com
- the connoisseur's guide to France
Discover France ►
Essential pages
Travel in France
Where to go
What to see and do
►
You are here :
France
› Coronavirus 2021
Covid in France - 2021
.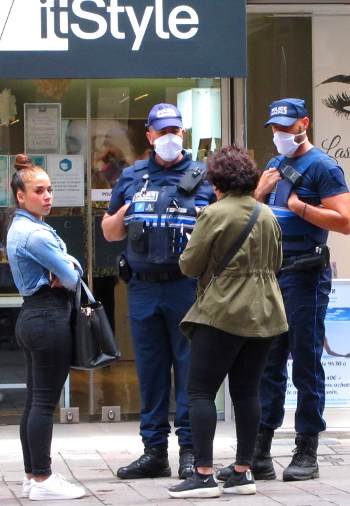 Masks in style... and obligatory in some places and for some professions .....
As of the start of spring 2021, France remains under strict Covid rules. There is hope that most rules will be relaxed by the start of summer, and that come July life will be back to something near normal for a large part of the population.
As of Mid March 2021, there is no national lockdown, though a national curfew requiring people to be home each evening by 6 p.m. Two areas, the area around
Dunkirk
right in the northeast, and the area around
Nice
, right in the southeast, are under local lockdowns. Some other parts of France, and most notably the
Paris
area, are under strict supervision, and may see local lockdowns introduced at any moment if the rate of infection should increase to an alarming level. Covid patients are being sent from Paris hospitals to hospitals in other less affected parts of France, in order to free up beds for routine care in hospitals in the Paris region.
Restaurants, bars, theatres and cinemas have been closed since the autumn, and are unlikely to reopen before the infection rate drops to a manageable level nationwide, in the region of no more than 5000 new cases per day. In March, the daily number of new cases is five times greater than this. Many restaurants are surviving by running a carry-out service.
Most museums and historic monuments, including the Louvre and the Château de Versailles, are temporarily closed to visitors. As soon as possible, they will reopen, but with strictly enforced limits on visitor numbers.
There are no travel restrictions within France, and most hotels are open (except for those that are normally closed out of season); most hotels will provide carry-out meals for guests to eat in their room.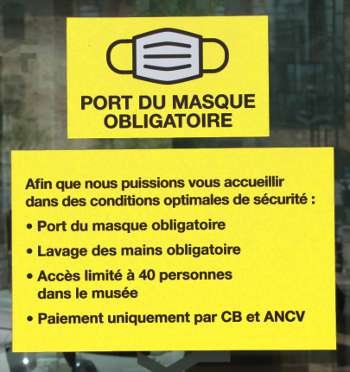 Museums may reopen soon, but only to people wearing a mask.....
Large out-of-town shopping malls have been closed, but smaller shopping centres, garden centres, DIY stores and small shops remain open for business. Most sports venues, and virtually all indoor sports venues, have been closed since the start of the year, and will not reopen until the coast is clear. All businesses and facilities that remain open are required to apply strict social distancing measures, and in most places the public has gone along with the rules, though inevitably there have been some who remain oblivious to the risks, and some who deliberately flout the rules.
The
vaccination campaign
in France has been beset by problems, including a very sluggish start-up and an a certain degree of scepticism with regard to the effectiveness of vaccinations. The medical profession however is very much behind the vaccination campaign, and keeps calling for it to be speeded up. By mid-March, just over 5 million people in France had received a first dose of the vaccine (far less than in the UK, but above average for EU countries) , and almost two million (
more
than in the UK) had received both shots.