About-France.com
- the connoisseur's guide to France
Discover France ►
Essential pages
Travel in France
Where to go
What to see and do
►
You are here :
France
› Coronavirus 2021
Covid in France - 2021 - Towards a return to normal
Covid passes
Proof of covid-compliance
is now required at the entrance to most events and attractions with a capacity of over 50 people. It is also required in order to board any long-distance bus or train service (TGV or Intercity) or domestic flights . Depending on what you are doing in France, you may well need to obtain an official French (EU) Covid pass before you arrive.
Proof can be provided in multiple formats; the easiest is as a QR code as provided by the European Union covid passport - either on a phone or on paper. France now also accepts British NHS Covid passes issued in England Wales and Northern Ireland. Visitors from other countries (USA, and others) are advised, and indeed may be required, to
obtain a French Covid pass
before travelling.
►
CLICK HERE
for full details about obtaining a French Covid pass. This can be easily done online, as long as you satisfy the criteria. There is no charge.

Update
November
2021
,
The daily infection rate in France fell steadily from August until late October, falling below 5000 new daily cases. Since the start of November it has risen to about 10,000 new cases per day, and seems to have stabilised, though a further rise is not ruled out given the higher rates in neighbouring countries (for comparison: the UK currently records around 35,000 new cases per day).
France remains however under strict though relaxed Covid rules, and nobody is ruling out a new spike. However, a month after the start of school and return to work, there has been no surge, presumably as a result of continuing application of Covid measures, and also because with 75% of 12-17 year olds vaccinated in France, there has been no surge in schools.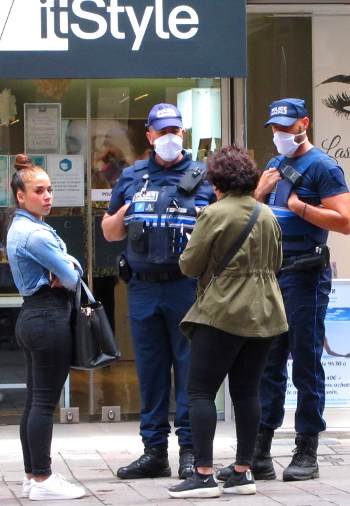 Masks in style... and obligatory in some places and for some professions .....
Generally speaking, everything is now open for business, though covid passports are required at the entrance to restaurants, museums and events, and social distancing measures and anti-crowding restrictions are still in place.
Trade and business fairs and conventions have resumed, with a maximum of 5000 visitors, and with social distancing rules..
For some sites, reservaton may be required / recommended, but in the current state of flux and uncertainty, which is not limited to France, details need to checked on an attraction's individual website.
Tourism is reviving
France's tourism industry is gearing up to welcome back many of the tourists and visitors who have not had much of a holiday since 2019.
International borders
are open - subject to a traffic-light system - and vehicles and campervans with foreign registrations have made a new appearance on French motorways. Generally speaking, people entering France from abroad must show proof of a
negative covid test
dated less than 72 hours before their entry, though this is unlikely to be checked, except maybe in airports, particularly for long-haul arrivals.
Much will depend on the speed at which Covid infections continue to fall, which in turn depends to a large extent on the speed of the vaccine rollout in different countries.
As of 3rd October 2021, France is among the most vaccinated countries in Europe, with 72% of the total population and 82.3% of adults being fully vaccinated.
There are no travel restrictions within France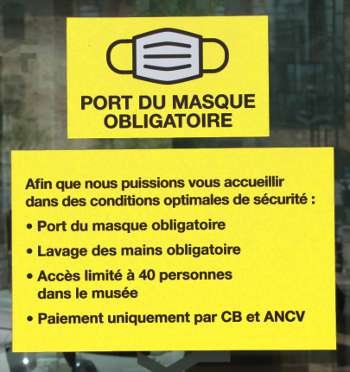 Museums have reopened, but often only to people wearing a mask.....
The
vaccination campaign
in France was beset in its early days by problems, including a certain degree of scepticism with regard to the effectiveness of vaccinations. But with vaccination reticence falling and vaccination availability rising, the vaccination campaign has now gone into overdrive.