About-France.com
- the connoisseur's guide to France
Summer in France for music-lovers
On this page, we look at the main music festivals in provincial France, and at the many other opportunities that exist, particularly during the summer months, for visitors to France wanting to enhance their trip with a concert or two . This page does not include details for music in Paris and major French cities, as there are concerts and musical events in Paris and big cities throughout the year.
While mostly concerned with classical music, this page also provides brief information on the main jazz, folk and rock festivals that take place each summer in France
---
Part 1: significant summer festivals of classical music in France

---
Part 2: other times , other musical events in France
In the summer months, many small towns and rural areas of France put on concerts in a wide array of venues, including châteaux, old churches, open-air theatres and small halls, for the benefit of locals and visitors. There are plenty of small festivals, sometimes thematic, sometimes not, and many of them are hard to find until one actually arrives in a place for a holiday. Generally speaking, concerts organised in this manner are friendly and convivial events, sometimes followed by a free glass of wine and a chance to chat with the performers. Performers at these events cover the whole range, from internationally acclaimed professionals to talented local amateur groups; and while full orchestral events are rare, many such venues propose concerts of chamber music, soloists, piano recitals, small choral groups or ad-hoc ensembles.
One area that has made an effort to provide a programme of concerts is the south of the Jura mountains, in eastern France, which each year proposes a
programme of

organ

recitals
in local churches.
For piano enthusiasts, the
Roque d'Anthéron international

piano

festival
, in rural Provence, is a locally organised festival offering a programme of piano concerts over a four-week period from
late July to late August
There is also the annual
International

Chopin

Festival
, with a week-long series of concerts at the château de Nohant, home of the 19th century novelist George Sand, in the Centre region of France, in
late July
.
In
August
, the relatively new
Festival de Caunes Minervois
offers a week of concerts with virtuoso musicians in the stunning setting of Caunes Abbey in the Minervois area of Occitanie, to the northeast of Carcassonne.
Music-lovers planning a week in France in
October
should note the
Fayence string quartet festival
, taking place in villages and small towns in the hills above the French Riviera.
And for a musical break at
Easter
, the seaside resort of Deauville, in Normandy, puts on each year the
Deauville Easter Festival of classical music
, lasting two weeks.
---
Jazz
:
Festival de Marciac
, near Toulouse.
Country
:
Country music festival
, Craponne sur Arzon, Auvergne.
Folk
:
Festival Interceltique
de Lorient, Brittany. Major "Celtic" folk festival.
Rock
: Festival des
Vieilles Charrues
, Brittany. France's major rock restival
Rock
: les
Eurockéennes
, Belfort, Franche-Comté. France's other major rock festival.
While for most of the year, music events tend to be concentrated in Paris and other major cities, with their concert halls, conservatoires and opera houses, during the summer months the centre of gravity of France's musical world moves out into the country, to small towns, chateaux and villages far away from the metropolitan centres.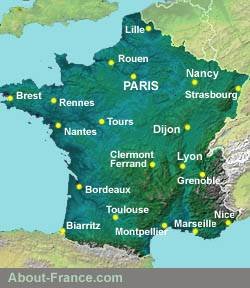 ►► Site guide
Full site index
Search About-France.com
► Principal chapters on About-France.com
Planning a trip to France
Information on things to do before starting your trip to France.
Where to stay in France
The regions of France

Beyond Paris, a guide to the French regions and their tourist attractions.
Guide to Paris
Make the most of your trip to Paris; Information on attractions,
Paris hotels
, transport, and lots more.
Tourism in France
Driving in France
Tips and useful information on driving in and through France - motorways, tolls, where to stay....
Maps of France
Cities, towns, departments, regions, climate, wine areas and other themes.
The French way of life
A mine of information about life and living in France, including working in France, living in France, food and eating, education, shopping.
A-Z dictionary of France
Encyclopedic dictionary of modern France - key figures, institutions, acronyms, culture, icons, etc.
►► other sample pages :
A selection of other pages
French school holiday dates
Guide to French wines
Food & eating in France
France by train
Bus and coach travel
Car ferries to France
Driving south from Calais
Wild France - France's "great outdoors"
Shopping in France
Studying & learning French in France
Opening and closing
Doctors and emergencies
About-France.com
is an independent user-supported website that does not track visitors and carries very little advertising, Links to carefully selected affiliate partner websites may generate commission on sales at no cost to the user.
Photo top of page -
Musique à l'Emperi - Festival de Salon de Provence. Creative commons licence