Explore France ►
Essential pages
Travel in France
Where to go
What to see and do
About-France.com
- the connoisseur's guide to France
Where to shop, when to shop and other useful tips
Page index: Click a link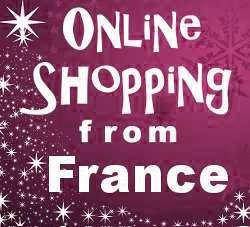 Click for
Gifts

, fashion,

souvenirs

,
and more.
Check out some French stores that deliver to your country
A cross-Europe study recently showed prices in French shops to be among the lowest in Europe; and perhaps, if you are buying a cross-section of everyday goods, they are. But tourists do not shop like locals, so the price advantage of France may not be so obvious to visitors. Besides, shops selling to tourists are notorious worldwide for high prices, and France is no exception.
With the exchange rate standing at around 1.19 USD to a Euro in Spring 2021, prices in France are attractive for many international visitors. Prices are also attractive for visitors from the UK, as Sterling has gained back about 5% since its lows before Brexit.
Shopping is a major part of the tourist experience in France, specially in Paris, and each year millions of tourists visit France and make a point of heading for the shops at some time during their stay. This page offers general and useful information for tourists intending to do some shopping while on holiday in France.
Prices and sales tax (TVA) :
As is the custom throughout Europe, prices displayed in shops in France always include sales tax ("la TVA" - value added tax). The price you see on the label is the price you will be charged - which can be a pleasant surprise for American or Canadian visitors.
Normal shop opening times in France:
The traditional French shopping week comprises six days, Monday to Saturday, with shops generally open from 9 a.m. to Midday, and 2 p.m. to 7 p.m. In towns and villages, it is still the rule that shops close at lunchtime.
However things are changing, and in urban shopping areas, most large shops such as department stores now operate what is called "la journée continue", and do not close at midday. Out-of-town supermarkets in France also tend to stay open at lunchtime, and depending on the town or district, other shops in large urban or suburban shopping centres also stay open. Many smaller shops have reduced their midday closing period, and now shut from, for example, 12.30 to 1.45 - in order to catch office workers who have free time during their midday break.
Out of town supermarkets and superstores - for instance
Carrefour, Leclerc, Auchan, Casino, SuperU
- (called "centre commerciaux") do not usually close for lunch. They generally open from 8.30 a.m. (or earlier) until 8 p.m. (or later); other large stores in out-of-town shopping centres often close a bit earlier in the evening, often at 7 p.m.
For Sunday opening and other exceptions, see below.
Sunday opening
Traditionally speaking, shops do
not
open in France on Sundays; however the rules have changed in recent years, and now across France you will find supermarkets, DIY and gardening shops open on Sunday morning. In tourist areas the rules are more flexible, and all sorts of shops can now stay open all day. In Paris for instance, the big department stores and shops in the main shopping areas and malls now stay open all day on Sunday, though sometimes with shorter opening hours.
Even more shops are open on Sundays during the
Christmas shopping weekends
, and Sunday has become one of the busy shopping days
Monday shopping in France:
In small towns, and even in cities, many shops may be closed on Monday morning; some small shops may be closed all day Monday. However it is unusual for out-of-town shopping malls and supermarkets to be closed on Mondays
24-hour opening in France:
Don't expect to find this. The idea runs contrary to the French tradition, and there are very few shops indeed that remain open round the clock, except some pharmacies (see below).
Bakeries
Bakeries often stay open at the start of the midday break, and close typically from 1 p.m. to 3 p.m., though there is no rule, and each bakery is free to decided its own opening times. similarly, many bakeries stay open later in the evening, specially in towns, and if they have bread left to sell. See the
guide to French bread.
Pharmacies

(chemists)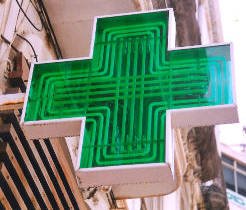 Luminous green sign outside a pharmacy
Pharmacies open and close like other small shops; however, in towns there is usually a "pharmacie de garde" or two open each Sunday too, and sometimes even at night. In towns with several pharmacies, a rota system usually operates, and it is easy to see a pharmacy which is open, as its green cross will be lit.; but in small towns, where there are perhaps just one or two pharmacies, it may be necessary to ring the bell for service, particularly in the event of a night-time emergency. In large towns, there are always some pharmacies open 24/24 : to see where they are on a given date, consult local media for rotas or try googling for "pharmacie de garde + name of town"
Chain stores: supermarkets (supermarchés) and superstores (hypermarchés)
The main national chains:
The giants:

Carrefour, Auchan, E.Leclerc, Géant Casino.

These stores sell virtually everything useful for everyday living.

Supermarkets or neighbourhood "hypers

": Super-U, Carrefour Market , Simply , Cora, Casino, Intermarché, Ecomarché

City-centre supermarkets / department stores:

Monoprix , Galeries Lafayette

Hard Discount:

Leader Price, Ed, Aldi, Lidl, Netto
All food supermarkets and hypermarkets
- with the exception of some hard discount stores - carry a full range of food, including masses of fresh vegetables, a big selection of wines and spirits, and local specialities. Though for fresh vegetables and fruit, the shopping experience is much more enjoyable in real markets, which can be found in all towns and cities, though not necessarily every day.
Specialist stores
Main national chains
other than food, found in out-of-town shopping malls (this is by no means a complete list):
Sportswear: Decathlon, Sport 2000, Intersport
Computer equipment: Boulanger
Furniture, white goods: Darty, But, Conforama, Maisons du Monde
Clothing: Kiabi, la Halle aux Vêtements, Orchestra
DIY : Castorama, Leroy Merlin, Brico Dépot, Monsieur Bricolage, Weldom.
French fashion
The top French fashion houses such as Yves St. Laurent, Chanel or Dior have their own boutiques in Paris (see
Champs Elysées
) : they also retail through major department stores in Paris and through their boutiques in other main cities and up market resorts like Courchevel or Saint Tropez.
For those looking for affordable French fashion stores, for young or old, France has plenty of choice through a range of brands available in main department stores, or through fashion boutique chains present in most city centres and many out-or-town shopping malls; these include Alain Manoukian, Jules, Mexx, Naf-naf, Kookaï, Pimkie, Brice, Petit Bateau, and plenty more.
Factory outlet malls in France
France has a couple of dozen factory outlet malls, mostly in northern France. Of particular interest to holidaymakers from the UK or Benelux are the Usine Côte d'Opale factory outlet centre at Coquelles next to the Channel tunnel exit, two factory outlet centres at Troyes, near the
A26
motorway from Calais to the south of France (fashion, household appliances), or the La Seguiniere Factory Outlet at Cholet, in the Loire Valley close to Vendée. For more details and addresses, visit
MarquesAvenue.com
Where to shop in Paris:
Central Paris:
Rue de Rivoli
(running from the Place de la Concorde, past the Louvre, to central Paris) and the central end of Rue du Faubourg Saint Honoré, one block to the north. This the area with the most chic shops in Paris.
The Champs Elysées:
These days most of the shops on the Champs Elysées are flagship outlets for large international chains, from Hugo Boss to Disney to Zara, and the inevitable McDonalds - plus a few very chic shops, but beware of the prices. With the a few exceptions such as Lacoste, Sephora, Cartier and Louis Vuitton, French stores have been pushed out; the major French fashion stores and
perfume houses
however are not far away, many of them on Avenue Montaigne (Dior, Chanel etc.). Avenue Montaigne meets the Champs Elysées at the level of Franklin D Roosevelt metro station.
On or near the
Boulevard Haussmann
, near the Opéra. This is the main boulevard for the big department stores, including Galeries Lafayette, Printemps, la Samaritaine, C & A.
Left Bank
(Boulevard St. Michel): book stores, including Gilbert, the biggest in Paris.
Les Halles / le Marais
and the lower end of the Rue de Rivoli; fashionable French and international chainstores, and trendy outlets. The "Forum des Halles", a large urban shopping mall, has outlets for virtually all the off-the-peg fashion retailers present in France, both French such as Kookaï, Camaïeu, Comtoir des Cotonniers, Naf-Naf, Esprit or Jules, and international including Benetton, Gap and Quiksilver.
Shopping in other French towns and cities.
Provincial towns and cities:
town centres remain among the principal shopping areas, with the more select boutiques and shops, including up-market and mid-market national chains and franchises. Out-of-town shopping malls offer the big hypers, as well as a range of small shops, mostly mid-market popular chains, in all fields from clothing, footwear and music, to opticians and accessories. Many out of town hypermarkets are open until 9 p.m.
Calais,

Cité Europe
shopping centre: the Carrefour and Tesco outlets in this large shopping centre next to the Channel tunnel terminal have long opening hours, 8.30 a.m to 9 p.m. or 10 p.m.
Grasse,
Alpes Maritimes, Provence. Capital of the
French perfume industry
. Buy top quality perfumes direct from the producers.
Shopping in rural France.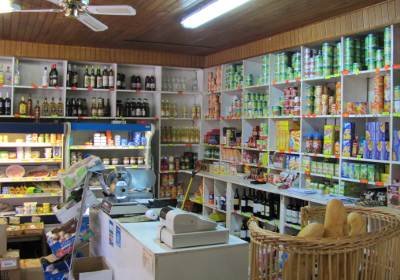 While supermarkets and hypermarkets are the main retail outlets for everyday shopping throughout France, small traditional groceries, even completely independent mom-and-pop stores, still survive in old towns and particularly in small country towns. It is still possible, here and there, to come across a traditional grocers shop, a relic of byegone days, where the proprietor serves you from a range of essential supplies stacked up on old wooden shelves or small refrigerated units. For some it can be a completely novel experience, for others a trip down memory lane; and for most visitors, it will certainly be journey through time and a memorable moment .
Paying for things in France :
Paying with plastic
: virtually all but the very smallest shops, such as neighbourhood convenience stores, accept credit cards and debit cards, notably Visa and Mastercard. In virtually all cases, foreign cards, including UK cards, are accepted in France as long as they are of the more modern chip and pin variety; old-fashioned swipe cards may not be accepted. Contactless cards can be used for small purchases, generally limited to 20€ or 30€.
Other means of payment
Large department stores in cities may take travellers' cheques, otherwise most shops accept French cheques as long as the customer has ID. All shops accept cash (euros) - which can be obtained from any French ATM as long as you have a valid card from one of the main international operators (Visa, Mastercard, Cirrus, etc.)
Markets:
See the
markets of France
page.
Essential shopping vocabulary:
Here are the French words for common types of shop:
Supermarket: supermarché (
soup-air-marsh-eh
)
Grocery store: épicerie
(eh-pee-siree
)
Bakers: boulangerie (
boo-lonje-euree
)
Cake shop: patisserie (
pat-ee-seurie
)
Butchers: boucherie (
boo-sheuree
)
Chemists: pharmacie (
farm-assee
)
Cobblers, shoe repairer: cordonnerie (
cordonn-eurie
)
Tobacconists: un tabac (
ta-back
)
Bookshop : librairie (
lee-brair-ree
)
DIY store: magasin de bricolage (
mag-a-zann de bree-co-large
)
Clothes shop: magasin de vêtements (
mag-a-zann de vet-mon
)
Wine merchants: marchand de vins (
mar-shone de van
)
Estate agents: agence immobilière (
a-zhonse ee-mo-bee-leeair
)
Newsagents: maison de la presse (
may-zon de la press
)
And some useful

shopping phrases

.....
I'd like to... Je voudrais
(

Zhe voodray ...

)
Pay by card : payer par carte
(

peh-yeh par cart

)
Pay in cash: payer en liquide
(

peh-yeh on lee-keed

)

Can I try this on please... Est-ce que je peux l'essayer, s'il vous plait.
(

Esker zhe per l'ess-say-yeh see voo play

)

It's too big / small : C'est trop grand / petit
(

Say tro gron / petee

)

It's for a gift : C'est à offrir
(

Say tar off rir

)
Please can you wrap it up : pouvez vous l'emballer s'il vous plaît
(

poovay voo l'om-balay see voo play

)
Please can you gift wrap this: pouvez vous faire un emballage cadeau, s'il vous plaît
(

poo-vay voo fair ern om-balarge cado see voo play

)