France's greatest sporting event
A Tour of eastern and southern France ...
The main features of the 2019 Tour de France are that it is almost entirely in the eastern half of France - indeed much of it will be close to France's eastern borders. It is also being billed as the "highest Tour de France ever", with most of the route taking riders through the upland areas of southern France.
See
stage details
below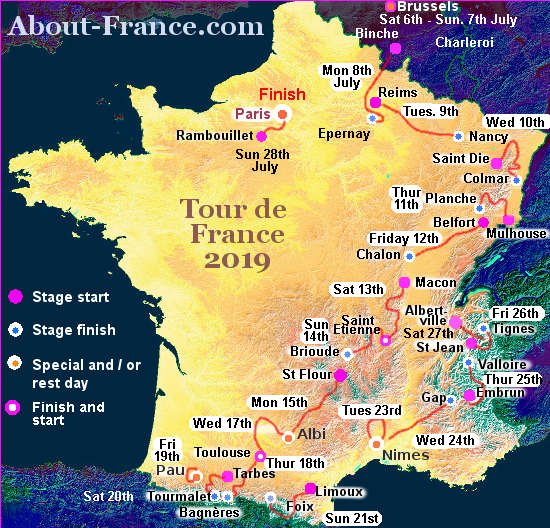 Tour de France route map by About-France.com
.
Click stage anywhere along the route

in France for regional tourism info
Copyright : If you copy this map on your blog or non-commercial website, you must credit it to About-France.com
A GUIDE TO THE ROUTE


The main feature of the 2019 Tour de France is that it is almost entirely in the eastern half of France - indeed much of it will be close to France's eastern borders. Riders will go nowhere near Normandy, Brittany, the Loire Valley or Aquitaine, apart from the obligatory stages in the Pyrenees.
The 2019 tour is a race for hill-climbers. From Stage 5 onwards, when riders face the first climbs in the Vosges mountains until the last day's ride from Rambouillet to Paris, riders will be contending with mainly hill country or mountains every day but two (stages 7 and 11), with twelve separate stages taking them close to or above the 1000 metres altitude mark. Hill and mountain stages involve two days in the Vosges mountains, one in the Monts du Lyonnais, two in the
Massif Central
, four in the Pyrenees, and three and a half days in the Alps.
Accommodation

for the Tour de France
All hotel rooms in and around the start and finish points get booked up very fast by the teams and the media.
To avoid disappointment, check out available hotel rooms as soon as possible, using the major online portals
booking.com
or
Hotels.com
,
Tour de France
2019
The
2019
Tour de France started on Saturday July 6th in Brussels, Belgium.
Click links for guides to the regions and towns along the route of the 2019 Tour de France
Stage
Date
Day's route (towns, regions) and terrain
Length in Km.
1st stage
Sat 6th July
Brussels - Charleroi - Brussels (Belgium)
192
2nd Stage
Sun 7 July
Time trials - Brussels (Belgium)
27
3rd Stage
Mon 8 July
Binche (Belgium) to Epernay (Champagne)
214
4th stage
Tues.9th July
Reims (Champagne) to Nancy (Lorraine)
215
5th stage
Wed 10th July
Saint Dié des Vosges (Lorraine) to Colmar (Alsace)
169
6th stage
Thurs 11 th July
Mulhouse (Alsace) to Planche des Belles filles (Franche-Comté)

157
7th stage
Fri 12th July
Belfort (Franche-Comté) to Châlon sur Saône (Burgundy)
230
8th stage
Sat 13th July
Macon (Burgundy) to Saint-Etienne (Rhône-Alpes)
199
9th stage
Sun 14th July
Saint-Etienne to Brioude (Auvergne)
170
Rest day
Mon 15th July
Saint-Flour (Auvergne) to Albi (Midi-Pyrénées)
218
10th stage
Tues 16th July
Rest day Albi
11th stage
Wed 17th July
Albi to Toulouse (Midi-Pyrenées)
167
12th stage
Thur 18th July
Toulouse to Bagnères (Midi-Pyrénées)
202
13th stage
Friday 19th July
Time trials - Pau (Aquitaine)
27
14th stage
Sat. 20th July
Tarbes to Col du Tourmalet (Midi-Pyrénées)
117
15th stage
Sun 21st July
Limoux to Foix (Languedoc)
185
Rest day
Mon 22nd July
Rest day - Nimes
16th stage
Tue 23rd July
Around Nimes
177
17th stage
Wed 24th July
Pont du Gard (

see

Roman France) to Gap (Alpes)
206
18th stage
Thur 25th July
Embrun (Alpes) to Valloire (Rhône-Alpes)
207
19th stage
Fri 26th July
Saint-Jean-de-Maurienne to Tignes (Rhône-Alpes)
123
20th stage
Sat 27th July
Albertville to Val-Thorens (Rhône-Alpes)
131
21st Stage
Sun 28th July
Rambouillet to Paris - Champs Elysées
127

Visit the
Official site
of the tour de France
A brief introduction to the
regions of France
Copyright © About-France.com 2007 - 2019 except where otherwise stated.
Page
READY TO PRINT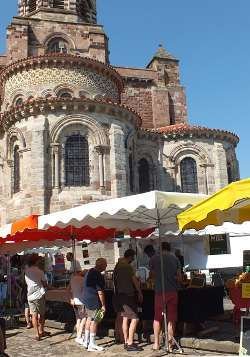 Brioude
, finishing point on Bastille Day (14th July) - one of the most interesting small towns in France, and birthplace of top French yellow jersey contender Romain Bardet.
Nimes
- with some of the finest Roman remains in France . From 21st to 23rd July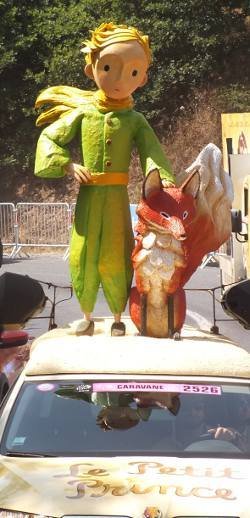 Part of the "caravan" - that preceeds the riders round the course.
France you don't know...
Discover
Offbeat France,
a selection of wacky sites and attractions that most visitors have never heard of !.
►► Site guide
About-France.com home
Full site index
About-France.com site search
►► Principal chapters on About-France.com :
Guide to the regions of France

Beyond Paris, a guide to the French regions and their tourist attractions.
Guide to Paris
Make the most of your trip to Paris; Information on attractions,
Paris hotels
, transport, and lots more.
Accommodation in France
The different options, including
hotels
, holiday gites, b&b, hostels and more
Tourism in France
The main tourist attractions and places to visit in France - historic monuments, art galleries, seasides, and more
Planning a trip to France
Information on things to do before starting your trip to France.
Driving in France
Tips and useful information on driving in and through France - motorways, tolls, where to stay....
Maps of France
Cities, towns, departments, regions, climate, wine areas and other themes.
The French way of life
A mine of information about life and living in France, including working in France, living in France, food and eating, education, shopping.