Explore France ►
Essential pages
Travel in France
Where to go
What to see and do
About-France.com
- the connoisseur's guide to France
Top free tourist attractions in France
On this page we list some of the best tourist attractions in France that can be visited free of charge. It is not possible to list these in order of popularity, since being free there are often no tickets sold, therefore no accurate visitor statistics..
Note : Senior citizens, over 65s.
There is not much of a tradition in France of offering free access or discounts to senior citizens (unlike Spain, Italy or the UK, for example), but it sometimes worth looking to see in there is a "
tarif seniors
". These do exist sometimes, and for example, Seniors benefit from the reduced rate at the Paris Science museum at La Villette.
---
Free attractions by category:
1. Cathedrals and other churches

a. Cathedrals
France's magnificent
medieval cathedrals
are among the most visited of the nation's free tourist attractions, on a par with the top paid-entry sites.
The finest gothic cathedrals in France are to be found at:
Other cathedrals:
b. Other significant churches
2. Free Museums in France
Note
: the permanent collections of
state museums
, including the
Louvre
, are
free at all times to young people under 26 years of age
and
resident
in the EU, Iceland, Norway or Liechtenstein. Free tickets can be obtained on presentation of a valid ID - passport or ID card - plus proof of residency - at the museum ticket office
All state museums
(that means most major museums in France) are free for everyone on
the first Sunday of each month
.
Museums that are free at all times:
Entrance free to the permanent collections in these museums
Paris area:
Paris: City of Paris Museum of Modern Art,
Paris - Musée Carnavalet - the museum of the history of Paris
Paris - Petit Palais, City of Paris museum of fine arts; near the Champs Elysées. Includes some Impressionists.
Le Bourget - Just outside Paris: Musée de l'air et de l'espace (Aerospace museum) -
See also Paris for Free
Other places:

.
Bordeaux: Musée des beaux arts -

one of the best general art galleries in France outside Paris.

No longer free

.
Bordeaux: Musée d'Aquitaine - good prehistoric section, including a reproduction of part of the Lascaux cave paintings.
Dijon - Musée des Beaux Arts - one of the finest provincial art galleries in France, housed in the former palace of the Dukes of Burgundy.
Limoges (Limousin) Musée des beaux arts - A collection from XV to XX century, including works by Delacroix, Redon, Renoir, Berthe Morisot, plus Limoges enamels and prehistoric artefacts.
Menton (Riviera) - Palais de Carnolès. from Greek icons and the Italian Renaissance to Chagall Dufy and Picasso. A fine small museum.
Mulhouse (Alsace) - Musée des Beaux Arts.
Nice -

Nice museums are no longer free, except to under-18s and students

- Musée Matisse.
Nice - Musée des Beaux arts (includes works by Fragonard, Boudin, Degas, Dufy, Sisley, Rodin, and others)
Nice - Musée d'art moderne et contemporain - Modern art museum

Rouen (Normandy)

(Free since 2016 )

Musée des Beaux arts and other municipal museums. The best collection of works by the Impressionists outside Paris
Toulouse - Musée départemental de la Résistance et de la Déportation - Museum of the French resistance
3 Other free sites to visit

Paris:
see
Paris for Free
Near Paris:
Château de Versailles

: free access to the grounds. Free access to the château for under 18s and for under-26s resident in the European Union (proof of residence needed).
Other places:
4 Natural environment.
Generally speaking, France's immensely rich natural environment is free for all to enjoy. See
Wild France
for the sparsely populated upland areas of France; for some dramatic natural landscape features, most of them free to visit, see
Offbeat France
.
Copyright notice:

Website and text © About-France.com 2003 - 2021 except where otherwise indicated.
Photo top of page...
Who hasn't heard of the famous "Pont d'Avignon" - the great medieval bridge over the Rhone? You have to pay to walk on it, and back again; but viewing the bridge from the river bank is quite free.... and more interesting.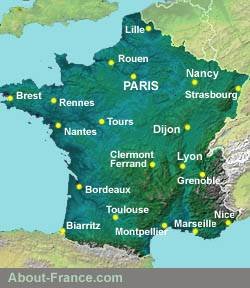 About-France.com is an independent user-supported website that does not track visitors, We may receive commission from sales made on selected partner websites reached through affiliate links.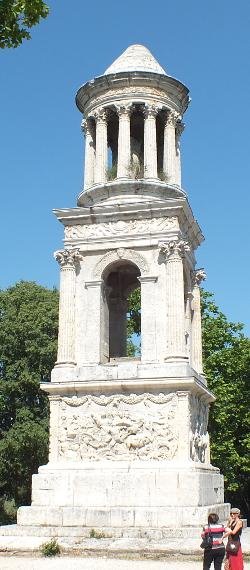 Roman monument in Glanum, Provence, beside the road.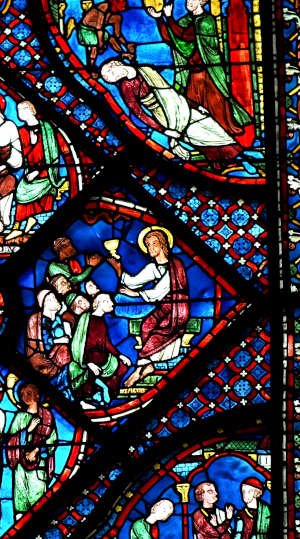 Fabulous medieval stained glass in Chartres cathedral
Verdon gorge
in upper Provence
Places to stay in France