About-France.com
- the thematic guide to France
Mont Saint Michel
- France's most visited monument outside Paris - lies on the borders of Brittany and Normandy
Easily accessible for visitors from the UK and from Northern Europe,
Northwest France
offers a variety of coastal and inland tourist destinations, with plenty of attractions.
Situated a couple of hundred miles south of the English Westcountry, this area of France is in many respects rather like a warmer sunnier version of the West of England.... with less crowds, notably in the inland areas. The northwestern parts of France have a history that is deeply entwined with the history of the south of England, and there is a long tradition of migration and trade across the English Channel going back to long before Roman times. These regional links remained strong through the historic Celtic migrations and the Norman conquest of England and are at the heart of the strong cultural links that have existed between England and Northern France for most of the time since the Middle Ages.
Brittany: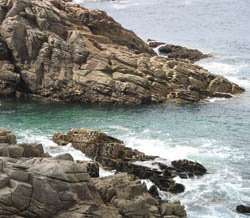 The north coast of Brittany, with its rugged granite cliffs and little sandy coves, is fairly similar to North Cornwall, though a bit warmer and sunnier. The south coast of Brittany can be hot in the summer months.... though as with the West of England, rainy weeks remain a possibility in any season. Inland Brittany is an area of hills and valleys, rivers and meadows, in short a lovely rural area. The region is well endowed with
cycleways
.
Click here for lots more about Brittany, including
Brittany's heritage, tourist attractions and a regional overview
.
Normandy:
The area from where William the Conqueror set out in 1066, has much in common with the south of England between Devon and Sussex: sandy beaches, rocky cliffs in the Cotentin peninsula, the famous white cliffs of Etretat, and an inland area full of wonderful small towns and villages, many boasting fine half-timbered houses. One such town is
Bayeux

,
home of the famous medieval Bayeux Tapestry, depicting the Battle of Hastings. Off the coast in the west of the region lies the
Mont St. Michel
, the most visited historic site in France outside Paris. Normandy is also famous for gentle farmland with fields and hedgerows, its stables and racehorses.
The
Normandy Beaches,
Omaha, Juno and the others, scene of the vital D-Day landings in the Second World War, draw many visitors, including a lot of American tourists.
Local specialities include sea food ("fruits de mer") , famous cheeses like Camembert, and of course, like the S-W of England, cider. .. but also its more potent cousin, apple brandy known as "Calvados".
If you want to experience the real France without too much driving, whether from Paris or from the UK - or even from Benelux, Brittany and Normandy are worth considering.
►
More about Normandy
Pays de la Loire:
The
Pays de la Loire
region is more generally thought of as being central western France: but the Loire Atlantique department, or at least the parts of it on the north bank of the Loire, are strongly turned towards
Brittany
, and
Nantes
, capital of the Loire Atlantique, was once the capital of Brittany - a region to which it no longer belongs.
Also the
Mayenne
department, in the north of the Pays de la Loire, juts up between Brittany and Normandy, which only actually share a short common border.
---
Main cities in northwest France:
Caen, Rouen, Rennes, Brest, Nantes
Northwest France

includes the regions of Brittany and Normandy, both popular holiday destinations.

►

Getting to northwest France

:

There are direct

ferries

from Plymouth and Portsmouth, motorways and rail connections from Paris or Calais. There are main

airports

at Paris, Rennes, Nantes, served by established airlines and low-cost carriers.
►►Discover About-France.com
About-France.com home
Full site index
About-France.com site search
►► Principal chapters on About-France.com :
Guide to the regions of France

Beyond Paris, a guide to the French regions and their tourist attractions.
Guide to Paris
Make the most of your trip to Paris; Information on attractions,
Paris hotels
, transport, and lots more.
Accommodation in France
The different options, including
hotels
, holiday gites, b&b, hostels and more
Tourism in France
The main tourist attractions and places to visit in France - historic monuments, art galleries, seasides, and more
Planning a trip to France
Information on things to do before starting your trip to France.
Driving in France
Tips and useful information on driving in and through France - motorways, tolls, where to stay....
Maps of France
Cities, towns, departments, regions, climate, wine areas and other themes.
The French way of life
A mine of information about life and living in France, including working in France, living in France, food and eating, education, shopping.
A-Z dictionary of France
Encyclopedic dictionary of modern France - key figures, institutions, acronyms, culture, icons, etc.
Text and photos copyright About-France.com except where otherwise indicated.
Photo top of page by Legall