Explore France ►
Essential pages
Travel in France
Where to go
What to see and do
About-France.com
- the connoisseur's guide to France
Cycling maps
from About-France.com
Printable PDF route maps for the long-distance cycle route from Cherbourg to La Rochelle.
This page is for pedal-cyclists, and does not concern motorcycling
.
France on two wheels
While France is certainly not as cycle-friendly as the Netherlands, and some parts of the country are distinctly lacking in dedicated cycle ways, cycling has a place close to the heart of many Frenchmen - witness the degree of national fervour aroused by the country's biggest annual sporting event, the
Tour de France
.
Leisurely cycling on the Atlantic cycleway, western France
At weekends in France, drivers on country roads know that it is advisable to look our for cyclists - either bunches of speed-cyclists on sleek bicycles preparing for or taking part in local races or championships; or just individual cyclists or families out for an afternoon ride. That is common all year round. In the summer months, local cyclists are joined on the roads and cycle-ways by an ever increasing number of international cycle-tourists, making the most of the opportunities that France offers for long-distance rides or circuits.
Bikes on trains in France
It is worth noting that cycles can be taken free of charge on many trains in France, notably on most "TERs", the regional express trains that cover the whole network; bike space must in theory be ordered when buying your ticket – but according to the French train company SNCF this service is not available online. On rural routes, the most common practice is to buy your ticket at the station for the next train - indicating that you have a bicycle. TERs are not usually full, except for commuter services.
The situation with regard to intercity expresses and TGVs is confused. Some take bikes for free, others charge; most of those that accept bikes have only limited space, and others don't take bikes at all.
The safest solution is perhaps to buy a lightweight
bike bag
in which you can carry your bike as hand luggage; bike bags count as ordinary luggage, and there is no charge, and no reservation needed.

Click for best online rates for hotels near the following towns on
cities and areas
of France.
Calais
Cherbourg
Rennes
Angers
Dinard
Rouen
Orleans
Tours
Limoges
Poitiers
Bordeaux
Clermont-Fd.
Other areas
About-France.com
is partnered with Europe's leading hotel booking portal,
Booking.com
, to bring you the best online prices
To find timetables and buy train tickets in France, check out
Trainline.com
. Trainline offers print your own and e-tickets at normal rates, with no booking surcharge.
Byways
By far the largest opportunity for relaxed cycle-tourism in France is provided by the country's vast network of secondary roads and country lanes. France has some 880,000 km (550,000 miles) of roads - excluding motorways - and almost all of this network is open to cyclists. The vast majority of this road network is composed of very minor byways, where vehicle traffic is very light, and lorries few and far between. Cycling conditions on these roads are generally safe to very safe, meaning that cycling holidays can be planned throughout the country.
Cyclists interested in heading down through France to the Mediterranean could check out
Byroads through France
. This route from Rouen in Normandy to the Camargue on the Mediterranean has been written for motorists, but the quiet byroads it follows are in most parts just fine for cyclists too.
The main dedicated and marked cycleways in France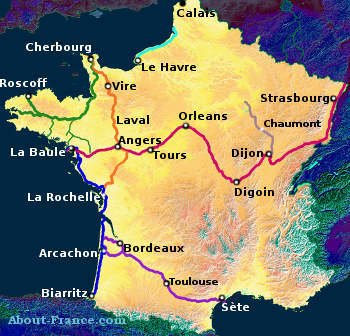 However, even safer than the minor road network is the constantly developing network of long-distance cycleways which - if it can not yet be said to criss-cross France - does now offer a couple of thousand kilometres of dedicated tracks where the most serious hazards are likely to come in the form of jay-walking pedestrian hikers or wandering wildlife.
The map on the left shows the six most substantially complete long-distance cycle routes in France today - plus a few other routes that connect with them. As the map shows, it is possible to travel safely by bicycle using marked and often dedicated cycle routes from the Channel to the Mediterranean, and from the Atlantic to the Mediterranean or to the German border. See below for essential route information.
The six most substantially complete long-distance cycle routes in France

Terminology

:
Cycle-way
: marked bicycle route either on dedicated way or on minor byways
.
Veloroute
: or "Voie verte": dedicated cycle route with smooth tarred surface.
Hard surface
: graded compacted hard surface - smooth cycling, but not suitable for rollers.
Unsurfaced
: usually a rural track or towpath with old gravel surface.
Major long-distance cycle routes in France

Brief description of the route

North-south route (blue):
Euro veloroute EV1.



Atlantic coast cycle route

Route (Roscoff) La Baule to Biarritz.
An almost uninterrupted dedicated cycle way from La Baule, at the mouth of the Loire, to Biarritz. South of the Gironde, in the region of Aquitaine, the route is almost entirely a tarred veloroute. The most complete long-distance cycle route in France.
East-west route (red):


Euro veloroute

EV6

.


Loire - Danube cycle route

Almost complete cycle-way from La Baule at the mouth of the Loire to Orleans. Hard surface. Some gaps in the Loire valley between Orleans and Digoin. Almost complete from Digoin to Strasbourg, via Besançon and Doubs valley. Following rivers and canals, much of the EV6 is on former towpaths or levees.
East-west route (violet):


Atlantic-Mediterranean route - mostly V80

Route: Atlantic coast to Mediterranean coast.
Tarred dedicated veloroutes from Arcachon or Lacanau on the Atlantic, almost to Langon s-e of Bordeaux. Then tarred veloroute - "Voie verte du Canal du Midi" to Montferrand, 49 km southeast of Toulouse. After that the route follows the surfaced or unsurfaced canal towpath to near Sète, on the Mediterranean.
Northwest-France (green)
Normandy and Brittany cycle route
Route: from Cherbourg via Coutances, Mont St. Michel, Dinan, Loudéac and the Nantes-Brest canal, to Roscoff or Brest. Over half of this is on dedicated hard-surface cycleways, the rest on tracks or minor roads. Connects with the north-south tarred veloroute from Mauron to Questembert, and via a mix of dedicated routes and byways with La Baule, for EV1 and EV6.
North-south route (orange)
Cherbourg to la Rochelle
via EV4, EV40 and V43
Route: EV4 Cherbourg, St Lo, then the EV40 from Mortain to Domfront. After Domfront the route is marked as the V43 via Laval,, Saumur, Parthenay, Niort and all the way to La Rochelle. About half of this is on dedicated hard-surface cycle routes, the rest - notably south of the Loire - on marked cycleways.
Open / download a pdf map of this route (printable)
Also accessible from Ouistreham (Caen)
Normandy (sky blue):
Channel-coast cycleroute
EV 4
Route: From Fort-Mahon plage 50 miles southwest of Calais, via Dieppe and Fécamp to Le Havre. Part of the EV4 Atlantic coast cycleway
Marked cycleways mostly on small byways. Plenty of hills.
► More information: French association for Veloroutes -
website
► For detailed cycling map of France, see the
Cycle.travel
website
More ideas for cycling through France
Other long-distance cycle routes in France

Brief description of the route


V16 London to Paris cycleway

Route

: Use UK cycleways to the channel port of Newhaven, then by ferry to Dieppe. The route then runs southeast towards Paris, via Saint Vaast, Forges les Eaux, Gisors, Arthies, Conflans Ste. Honorine and then V32 along the Seine towpath to Le Pecq and Chatou. Taking cycles into Paris is not recommended for riders not used to city cycling. However there is a network of cycle ways in Paris. See plan . To avoid taking bikes into Paris, find a place to stay in the suburbs. There is an Ibis Budget hotel with garage at Rueil Malmaison, 800m from the RER (express transit rail) station with direct trains to central Paris. To reach Rueil Malmaison, cross the seine at Chatou. There is a Campanile hotel at Montesson, just 400 metres from the cycleway, and 1300 metres from the Le-Vésinet-Le-Pecq RER station.
North-south route

from Cherbourg to Provence

Route

: Follow the orange route on the map above from Cherbourg via St Lo and Angers, Saumur. then turn east onto the EV6, following the Loire Valley cycleway as far as Cuffy, just southwest of Nevers. Here join the relatively new V70 Via Allier cycleway, which is complete as far as Langogne, near the river's source. It will take you through Moulins, Vichy, Vic le Comte, Brioude and Langeac. After Langogne, there is no marked cycleway, but the quiet D906 road is virtually downhill all the way from the highest point on the route, the Col du Thort, to Villefort in the heart of the Cevennes mountains, and on to Alès. From Alès the V70 will eventually run due south and on to the coast at Palavas les Flots, near Montpellier. But for Provence, head south via Vézénobres and then choose byroads as far as the pretty town of Uzès. From here the V66 will take you past the Pont du Gard (Roman aqueduct) and on to Beaucaire, on the Rhône, where it meats the EV 8 and EV 17 Mediterranean coastal routes
Cycling in the French Alps
As do the
French Pyrenees
, The French Alps attract cyclists from all over the world. There are those who just wish to enjoy the spectacular scenery of the Alps at slow speed; and there are those who come to relive the exploits of the great mountain stages of the Tour de France - also at a slower speed.
Unfortunately for cyclists, the Alps also attract large numbers of motorists during the warmer seasons (June to September) when all Alpine passes are open to traffic.
For those just wanting to enjoy the alpine scenery, there are plenty of bike hire facilities (notably mountain bike hire) in resorts and other towns and villages all over the Alps. Cycling can be a great way to enjoy the Alps, as long as you stay clear of the busy through routes
The col d'Izoard, in the Queyras regional park
For those in search of an enjoyable and quite strenuous Alpine cycle tour, About-France.com recommends the southern half of the French Alps, where there tends to be less traffic on the roads than in the more developed Savoy Alps. The following four or five day itinerary largely avoids the busiest Alpine routes. While climbs of up to 1200 metres (days 2 to 5) can be undertaken by reasonably fit cyclotourists carrying paniers and even very lightweight camping equipment, the climb from St.Michel de Maurienne to Grand Galibier should not be attempted on touring bikes carrying luggage – or at least, certainly not in a single day.
Serious cycling: Alpine pass cycle tour: St. Michel de Maurienne to Grasse - 325 kilometres
Highway code for cyclists in France.
NB. The lines below are given solely for information, and are valid at the time of writing. They do not constitute an exhaustive list of all laws and rules governing riding a bicycle in France, and may in time be changed..
To be roadworthy, bicycles must be equipped with a bell, fully functioning brakes, and after dark with reflectors and front and rear lights.
The wearing of cyclists' crash helmets is not compulsory in France, but is strongly advised. Cyclists must also wear a high-visibility waistcoat if cycling after dark outside urban areas.
In urban streets, cyclists must use the marked cycle lanes where these exist.
Cyclists must obey traffic signs and signals in the same way as other road users; this includes respecting "no entry", "one way" and "stop" signs.
Like cars, cyclists riding behind each other on a roadway are obliged to keep a safe distance between them. Cyclists may ride two-abreast, but only during hours of daylight. At night, single file cycling is obligatory.
Drinking and cycling: cyclists are subject to the same alcohol limits as other road users. Cycling while under the influence of alcohol can lead to a hefty fine, the impounding of the cycle, and/or the withdrawal of the cyclist's vehicle licence if he/she has one.
Click here for a
detailed map of France
, which you can scroll and zoom on any area.
Copyright © About-France.com 2007 - 2023 except where otherwise stated.