The

Camargue - between sky and sea

Camargue essential information
Location:
on the Mediterranean coast
Regions:
Provence Alpes Côte d'Azur and Languedoc
Nearby attractions and other places: Nimes, Arles,
Nearest airports to the Camargue
: Nîmes, Marseille Provence.

Access
from Calais:
Route
via A 26 > Lyon > A7, then via Arles or Nimes
.
Few areas of France
are as distictive as the Camargue; and apart from dramatic mountain areas, few are as interesting and offer such a range of ourdoor activities. Bird-watching, horse riding, pony-trekking for all (no experience needed), equestrian events, hiking, cycling, riverboat trips, some wonderful and remote Mediterranean beaches, and a world-famous gypsy pilgrimage each year in May; the Camargue has all this, and more.
The Camargue Natural Park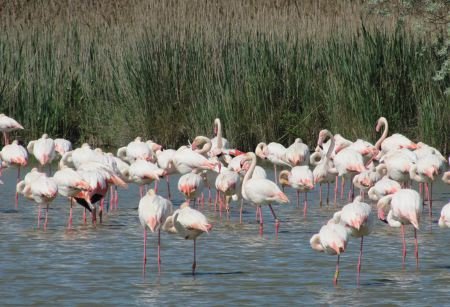 The Camargue
Natural Park
area, which includes a large UNESCO designated biosphere reserve, can be visited at any time of the year, but the best times are in the Spring and the
Autumn
, when the park's wetlands are a major staging point for hundreds of thousands of migrating birds. It is notably at this time of the year that the Camargue attracts bird-watchers from all over Europe. But visitors come to the area throughout the year to admire its wildlife, and in particular the thousands of pink flamingos. These can be admired on many of the park's shallow expanses of water, but most easily in the Camargue ornithological park, a bird park just north of Saintes Marie de la Mer. The centre, with its kilometres of trails, is home to many varieties of waterfowl, including flamingos, egrets and herons; it also has a bird hospital.
Camargue horses and riding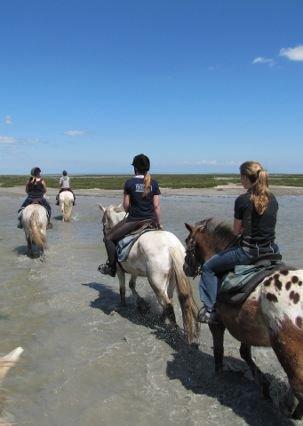 While the flamingos are the Camargue's most emblematic birds, the area is more historically famous for its white horses. The Camargue's horses are a special breed, reputedly one of the oldest breeds of horses in the world, and they have lived in the very particular environment of the Camargues saline wetlands for thousands of years. While some live in semi-wild conditions, most are now used either by the Camargue's traditional cowboys, for herding and rounding up the area's distinctive black bulls, or else for pony trekking.
Riding
:
There are plenty of opportunities for horse riding in the Camargue, with riding stables beside many roads, particularly around Les Saintes Marie de la Mer. Most of these stables cater largely for tourists, and will take anyone out on a trek across the fields or the salt marshes – no experience needed. Rates are cheap - 15 € an hour in some stables in 2013, 20 € for an hour and a half. Often it's just a question of turn up and go - or book, and come back for the next available ride. Many stables also run half-day treks and day treks, but it is best to check out with the local tourist office in advance, and book ahead; this is particularly recommended for experienced riders who are looking for more than just a wander round the Camargue at walking pace.
See and do : Other activities and places
Rhone river trips

Just outside Saintes Marie, there are cruises on the Petit Rhône river, on board the Tiki, made up to look like a Mississippi paddle steamer.
Not quite the Mississippi.... but a riverboat trip on the Rhone Delta is a fun outing for the family
Copyright © About-France.com 2008 - 2017 except where otherwise stated.