Tips about hiring a car in Paris
For visitors planning a trip to Paris, followed by a journey to other parts of France, hiring a car

in

Paris is not necessarily the best solution (see alternatives below); but if you do want to hire a car in Paris, look at the different options before making your choice.


If you are planning to stay a few days in Paris

before heading elsewhere,

don't

hire a car when you first arrive at the airport or train station. You won't need the car while you're in Paris, as public transport is so good, and generally faster than trying to get round Paris by car, even if you know the city. And you'll just be wasting you money paying for a hire car you don't need, and parking space for it too.

If you are planning to fly out of Paris

at the end of your stay, then it makes sense to pick up your rental car at the airport from which you will be leaving.... unless you're going to spend another night or two in Paris before leaving. In this case, and in all other cases, finding the best place to hire your car will depend on where you're going.

If you're quite happy with driving in Paris

, then pick your rental car up somewhere close to your hotel (See

Paris car hire pickup locations

on the table below); but if you'd rather not use the streets of Paris to get your first experience of driving in France, then it makes sense to pick up your car on the outskirts of Paris, or even further.



Alternatives to picking up a hire car in central Paris
a) For short excursions outside Paris:
If you are looking for a way to take a short excursion outside Paris, for instance to visit the D-Day beaches, or the Champagne vineyards, you might find it easier to choose a guided minibus trip with pick-up and set-down at your hotel. See the options on the Paris City Vision website.


b) Pick up a hire car on the outskirts of Paris:
►
For travellers heading
south
or
southwest
, the most convenient car hire pickup location is
Orly airport
(
select Orly
in the form below); Orly airport is located right beside the two main routes to the south and west, the A6 and A10 motorways (for Lyon and Bordeaux respectively), and the airport can easily be reached by taxi or RER "B" express suburban train.
►
For travellers heading
east
, in the direction of Strasbourg and Alsace, the best option is to take a taxi or the RER "A" express suburban train to Marne la Vallée (Disneyland) station, which is right next to the A4 motorway for Reims, Strasbourg and Germany. (Select
Marne la Vallée TGV)
►
If you are planning to drive
north
in the direction of Lille and Belgium, take a taxi or the RER "B" express suburban train, and pick up your hire car at Charles de Gaulle airport, which is right beside the A1 motorway to the north. (Choose
Charles de Gaulle airport
in the form below).
►
Finally, if you are planning to visit
Normandy
, two possibilities are to pick up your car at Versailles, on the RER "C" line, or even take the train to Caen, and pick up the car at the station in Caen. (choose
Versailles or Caen
in the booking form below)
c) Take the train
Take a TGV high speed train to a city in provincial France, and hire a car when you arrive; it'll be less driving, and you'll get there quicker than by car. Cars can be hired at all main railway stations.

The

hire-car finder

box below will search through the offers of a range of car hire companies, and offer you a range of solutions, from the cheapest to the most expensive.


►

Select your hire point from the drop-down list


►

Place cursor in date box, and use the calendar that opens up.

Use the search box below to find a selection of

cheap car hire options in France,

including EasyCar (a sister company to EasyJet), Carhire3000 and others. Do

not

use this box if you prefer to hire from one of the big car hire companies. Do

not

use this box if you want to pick up a car in one country and return it in another. Use one of the big international operators such as Hertz.



Locations

:
Choose "Paris" in the "locations" drop-down box. Within Paris, you can choose from among a large number of pick-up points


Compare offers from a range of suppliers, including


Useful information:


To hire a car in France you must be

at least 21

years old; some car rental firms will not hire vehicles to drivers under 25. You must hold a

valid drivers license

, and you must have held this licence for a year or more.
Drivers from other

European Union

countries and some other countries

do not

need an

International

Driving licence.
Tourists from

Asia, Australia, Africa

, and many parts of the

Americas

(including some US states) must have an International Driving License. It is advisable to check with your local driving organisation, tour operator, or the local French embassy if you are in any doubt about this document. An international driving license is a document you will need to obtain in your own country, before coming to France. It is not possible to obtain this document once you have arrived in France.

About-France.com is not a car hire company; the role of this web page is to allow travellers to compare cheap car hire options offered by a number of companies and/or brokers, and to book car hire on line using the services of the companies concerned. By using this form, you will be taken to carhireengine.co.uk, a U.K. based car-hire broker working with reputable low-cost car-hire operators throughout France and worldwide. By using this service, you will have a choice of cheap car hire options from several different companies, often including unbeatable rates.
Any booking contract made through this site is a contract between you, the user, and the car hire company selected. Under no circumstances can About-France.com be considered as party to or guarantor of any car hire contract entered into by users of this website. Travellers are reminded that it is unusual for car hire companies to guarantee a specific model of car; in virtually all cases, advanced bookings will guarantee a specific type of car (compact, economy, limousine, etc.), but not a specific make. This is true even with the largest operators, except when specific terms of contract guarantee a particular make of vehicle and/or model.



---

Other useful sites:



Copyright notice: Website and text © About-France.com 2003 - 2017 except where otherwise indicated.

Bookmark this page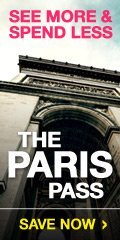 Extra special offer
with About-France.com
Click here then
SAVE more on Paris Passes
Use code
ABOUTFRA