Explore France ►
Essential pages
Travel in France
Where to go
What to see and do
About-France.com - the connoisseur's guide to France
Tips about hiring a car in Paris
Don't just go for the big names in Car Hire. Use the
Holiday-Autos hire-car finder
to search through the offers of a range of car hire companies, from the best known to the unknown, and find a range of solutions, from the cheapest to the most expensive.
Where to pick up your hire car in or outside Paris
For visitors planning a trip to Paris, followed by a journey to other parts of France, hiring a car
in
Paris is not necessarily the best solution (see
alternatives
below); but if you do want to hire a car in Paris, look at the different options before making your choice.
If you are planning to stay a few days in Paris
before heading elsewhere,
don't
hire a car when you first arrive at the airport or train station. You won't need the car while you're in Paris, as public transport is so good, and generally faster than trying to get round Paris by car, even if you know the city. And you'll just be wasting you money paying for a hire car you don't need, and parking space for it too.
If you are planning to fly out of Paris
at the end of your stay, then it makes sense to pick up your rental car at the airport from which you will be leaving.... unless you're going to spend another night or two in Paris before leaving. In this case, and in all other cases, finding the best place to hire your car will depend on where you're going.
If you're quite happy with driving in Paris
, then pick your rental car up somewhere close to your hotel; but if you'd rather not use the streets of Paris to get your first experience of driving in France, then it makes sense to pick up your car on the outskirts of Paris, or even further.
Unless you really need a car in central Paris (which is unlikely)....
a) For short excursions outside Paris:
If you are looking for a way to take a short excursion outside Paris, for instance to visit the D-Day beaches, or the Champagne vineyards, you might find it easier to choose a guided minibus trip with pick-up and set-down at your hotel. See the options on the
Paris City Vision
website.
b) For other trips, pick up a hire car on the outskirts of Paris:
►
For travellers heading
south
or
southwest
, the most convenient car hire pickup location is
Orly airport
(select
Orly
in the
Holiday Autos
search box); Orly airport is located right beside the two main routes to the south and west, the A6 and A10 motorways (for Lyon and Bordeaux respectively), and the airport can easily be reached by taxi or RER "B" express suburban train.
►
For travellers heading
east
, in the direction of Strasbourg and Alsace, the best option is to take a taxi or the RER "A" express suburban train to Marne la Vallée (Disneyland) station, which is right next to the A4 motorway for Reims, Strasbourg and Germany. (Select
Marne la Vallée TGV
in the
Holiday Autos
search box
►
If you are planning to drive
north
in the direction of Lille and Belgium, take a taxi or the RER "B" express suburban train, and pick up your hire car at Charles de Gaulle airport, which is right beside the A1 motorway to the north. (Choose
Charles de Gaulle airport
in the
Holiday Autos
search box).
►
Finally, if you are planning to visit
Normandy
, two possibilities are to pick up your car at Versailles, on the RER "C" line, or even take the train to Caen, and pick up the car at the station in Caen. (choose
Versailles
or
Caen
in the
Holiday Autos
search box)
c) To visit other cities, take the train
Take a
TGV high speed train
to a city in provincial France, and hire a car when you arrive; it'll be less driving, and you'll get there quicker than by car. For instance Paris-Lyon is 2 hours by TGV, but over 5 hours by car. Cars can be hired at all main railway stations.
►
Go to
Holiday Autos
to begin your search
d) Drivers licences
To hire a car in France you must be
at least 21
years old; some car rental firms will not hire vehicles to drivers under 25. You must hold a
valid drivers license
, and you must have held this licence for a year or more.
Drivers from other
European Union
countries and some other countries icluding Switzerland and the UK
do not
need an
International
Driving licence.
Tourists from
Asia, Australia, Africa
, and many parts of the
Americas
(including some US states) must have an International Driving License. It is advisable to check with your local driving organisation, tour operator, or the local French embassy if you are in any doubt about this document. An international driving license is a document you will need to obtain in your own country, before coming to France. It is not possible to obtain this document once you have arrived in France.
Other useful pages & sites:
Copyright © About-France.com 2007 - 2023
Tips and practical advice on where and when best to pick up a hire car in Paris

About-France.com
is an independent user-supported website that does not track visitors and carries very little advertising, Links to carefully selected affiliate partner websites may generate commission on sales at no cost to the user.
In an

emergency


in Paris:
24 hr chemist / pharmacies:
a) 84, av des Champs-Elysées 75008, tel
0145 62 02 41
b) 6, place Clichy 75009, tel
0148 74 65 18 .
English-speaking pharmacies:
British Pharmacy
62, Avenue des Champs-Elysées
75008 Paris
0143 59 22 52
British-American pharmacy,
1 rue Auber, 75009
0142 65 88 29
English-language crisis line;
SOS-Help
Daily 3 pm - 11pm
01 46 21 46 46
Ambulance:
Call/phone: 15
Hospitals:
Hertford British Hospital: 3, rue Barbès, 92300 Levallois-Perret
Tel 0146 39 22 22
American Hospital of Paris
63, Bd Victor Hugo
92200 Neuilly-sur-Seine
0146 41 25 25
More useful pages
Paris travel maps
View or print out a plan of the metro system in the central area of Paris..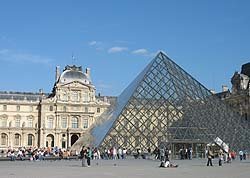 The Louvre museum, and its glass pyramid.