Explore France ►
Essential pages
Travel in France
Where to go
What to see and do
About-France.com
- a connoisseur's guide to France
This page looks at authentic French châteaux from the
Renaissance to the 18th century
.
The area lists below include a pick of the finest châteaux in the north, the midddle and the south of France, with essential information about opening times.
For medieval castles see
►
fortresses
This page does not include19th century châteaux and châteaux such as
Chantilly
or
Pierrefonds
in the Oise or
Hautefort
in the Dordogne, that were extensively rebuilt and/or embellished in the nineteenth or twentieth century.
The word "château" covers everything from medieval dungeons and fortresses to the country houses that grace many wine estates. This page presents a choice of the finest French châteaux, including some that are less well known
Stay in a Renaissance château?
A fair number of privately-owned French châteaux offer B&B or hotel-style accommodation. Here is a small selection of some of the most historic and attractive.

Loire valley: between Blois and Tours.
Hotel Château de Pray - Near Amboise in the Loire valley - a Renaissance château with 19 rooms and Michelin listed restaurant.
Valley of the Cher: south of Cheverny
Château de Chémery B&B - Experience the intimacy of a small Loire valley Renaissance château. Five suites in this small moated château.
Loire valley: near Chinon Hotel Château de Marçay - stay in a genuine 15th century Loire château. Four star. 22 rooms. gourmet restaurant.
Sarthe: near le Mans
Hotel Château de la Barre - Just five suites in this fabulous Renaissance château, owned by the de Vanssay family for over 6 centuries. 100 acres or gardens.
Charentes - Hotel Chateau de Mirambeau
Five-star luxury hotel with Michelin starred restaurant in a Renaissance chateau north of Cognac.
About-France.com is an independent user-supported website that does not track visitors. We may receive commission from sales made on selected partner websites reached through affiliate links.
To the question "How many châteaux are there in France?" there is no definitive answer. It all depends on what you mean by the word "château" ; and according to different interpretations of the word, there are said to be anything between 1,000 and 7,000 châteaux in France.
France's historic monuments agency lists 6,450 châteaux or manor houses, 900 of them owned by the state, the rest in private hands, many of them owned by families that have lived in them for generations. Some are big, some are relatively small.
Even excluding the smaller family residences that call themselves châteaux, there are over 1,000 châteaux in France, many of them visitable; yet unfortunately, or maybe fortunately, most tourist websites and package tours concentrate on a small number of classic châteaux, such as the main
►
Loire valley châteaux
, or
►
Mont Saint Michel
in Normandy; and while they are definitely worth visiting, these gems of France's historic heritage get overrun by visitors for much of the year.
For a better visitor experience, it is well worth looking out some of the hundreds more visitable historic châteaux that France has to offer - on or off the beaten track.
The lists below present some thirty of the best French châteaux, several of which are largely unknown outside their region. As for smaller châteaux, the only way to find out which can be visited, and when, is to check out local tourist offices (or their websites), as these may be the only sources of detailed and accurate information for their area. Large tourist offices and web guides tend to prioritize those châteaux that are alredy well-known, often ignoring the less important monuments, particularly those that are privately owned.
French châteaux : the great regions and the great ages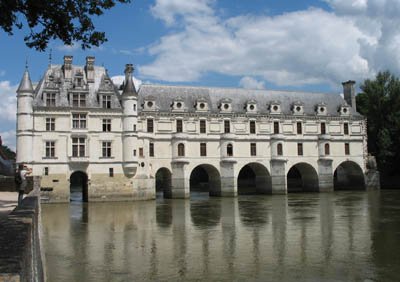 Chenonceau - one of the most visited Loire châteaux.
While there are plenty of châteaux in most regions and areas of France, some regions have a particularly rich historic heritage, on account of their turbulent past, or their later prosperity.
Regions that saw centuries of strife and conflict in the Middle Ages tend to be rich in historic fortified castles (see
►
medieval fortresses
).; other areas have a fine choice of peacetime châteaux, built as royal or noble residences when times were good. In other areas, visitors can discover large numbers of châteaux built in the eighteenth or nineteenth centuries by prosperous merchants or landowners.
The finest of France's historic châteaux date from the
►
Renaissance
(15th century) to the "Grand siècle", the 17th century. The areas with the largest concentration of spectacular Renaissance and grand-siècle châteaux are the parts of France that were at the time both prosperous agricultural areas and in relatively easy striking distance of Paris. The Châteaux of the Loire indeed make up the finest group of Renaissance castles or palaces anywhere in Europe; but they are not the only such castles that France has to offer.
To the southeast of Paris, Burgundy is another area with plenty of châteaux to visit - from fine late gothic castles to neo-classical châteaux of the seventeenth and eighteenth centuries .
The French call the 17th Century "le grand siècle" - the great century. This was the time when France was a great European power, and French culture was at its zenith. It was the golden age of kings Louis XIII and Louis XIV. It was the age of great French architects, thinkers, philosophers and writers. It was the baroque age; but baroque in France was not the ornate florid baroque of Italy or Germany; it was ebullient, but more classical. It was the start of neoclassisism, a style that grew out of the Renaissance's rediscovery of classical art and architecture. And as far as châteaux go, it was the age that saw the building of some of the most iconic of French châteaux, fine châteaux that never had any military signification, but were stately homes, an expression of their owners' prestige.
The greatest of the châteaux of the Grand Siècle is of course the
Château de Versailles
, Louis XIV's great royal residence ten miles to the west of Paris, which immediately became the benchmark whereby kings and princes all over Europe set their architectural standards.
Versailles was never remotely matched in grandeur, at least not in France; but the 17th and 18th centuries saw the building of many very fine smaller châteaux all over France, châteaux that came to define the paradigm of the French château until the twentieth century.
A pick of the finest historic châteaux in France
Chateaux in Northern France - Paris area and further north
Chateaux in central France - from the Loire valley to Burgundy
Fine châteaux in Southern France
There's more to France than the same old sites that are mentioned in all the tourist guides .....