About-France.com
- the connoisseur's guide to France
Christmas shopping & Christmas markets in France 2019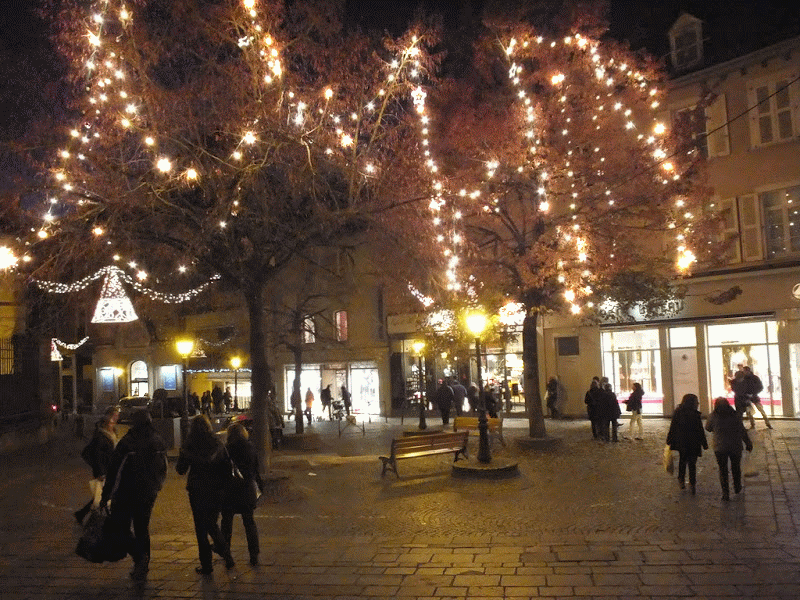 Christmas shopping in France
For anyone looking for a good reason to travel to France, a Christmas shopping trip can provide the ideal excuse. Paris and other French cities are places that go to great lengths to make sure that the Christmas shopping experience is something to be remembered - a gala of lights, sounds and old seasonal traditions. And with the Euro currently competitive against other currencies including the dollar, the pound and the Swiss franc, there are plenty of bargains to be had. As is the practice throughout Europe, retail
prices
displayed
always include tax
; i.e. French sales tax does not have to be added to the price displayed.
CHRISTMAS SHOPPING IN PARIS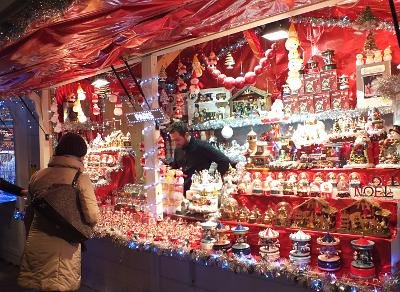 Christmas market stall in Paris
In Paris, the most popular Christmas lights are those decorating the Champs Elysées; but they are just the icing on the cake. The streets and the big shops in all the shopping areas, notably the department stores such as Galeries Lafayette, in the Boulevard Haussmann area, vie with each other to produce the most elaborate Christmas decorations and Christmas windows.
Big stores and stores selling up-market French luxury goods such as fashionwear or
perfume and cosmetics
can be guaranteed to put on particularly lavish and impressive window displays ; however bargain hunters should not expect to find a lot of really good buys, as
winter sales
in France cannot start before the first week of January.
Christmas markets in Paris 2019
Les Marchés de Noël
- offering a wide array of art and craft products, as well as local specialities and special gastronomic delights for the Christmas dinner table.
The main Christmas markets in Paris are located at....
Champs Elysées / Place de la Concorde: The Champs Elysées Christmas Market made a comeback in 2018, having moved from the sidewalks of the Champs Elysées to the Jardins des Tuileries, between the Louvre and the Place de la Concorde, and no longer on the champs Elysées. Opens late November - closes first week of January 2020
Other Paris Christmas markets
Click here for
Paris good value hotel guide
- a choice of Paris hotels offering best value for money.
Christmas in Strasbourg
Christmas market in Strasbourg - Photo © CRTA / Meyer
The Capital of
Alsace
, in eastern France, is reputed to be the home of Christmas festivities; and the annual
Christkindelsmärik
, or Christ-child- market, held around the ancient cathedral in the heart of the historic quarter, is the most famous Christmas market in France, if not in Europe. It was first held in 1570. Today the event draws hundreds of thousands of visitors, who come to wander through the narrow streets, and admire and buy from the hundreds of stalls offering traditional Christmas wares, craft products, and gifts of all shapes and sizes.
The
Strasbourg Christmas Market 2019
runs from
22nd November to 30th December
- though parts such as the Craftsmen's village finish on Christmas Eve. Strasbourg can be reached by motorway or by train. Click here for
Strasbourg city and hotel guide
.
There are many more Christmas markets in Alsace, notably in
Colmar
(22nd November - 29th December 2018) , in
Hagenau
(24th November 2019 - 30th December 2020) and in some of the picturesque small towns such as
Riquewihr
(29th November - 22nd December 2019).
OTHER FRENCH CITIES -
All French cities pull out the stops for Christmas, specially those with historic centres, where the Christmas lights traditionally bring in large numbers of shoppers and admirers. The tradition of Christmas Markets has been taken up in many French cities, notably in Eastern France, in towns such as
Besançon
,
Montbéliard, Colmar
and Nancy, which hold big events. But there are also big Christmas markets, open for at least three weeks up to Christmas, in
Clermont Ferrand, Bordeaux, Lille (late November - late December), Metz, Arras
and elsewhere; other towns and cities put on smaller, shorter Christmas markets.
Shop opening times in France before Christmas
In
city centres
, the pre-Christmas period is the busiest time of year for shopping in France; many shops extend their
opening hours, notably by staying open at lunchtime, and - during the last three weekends before Christmas, opening on Sunday afternoon. Sunday opening is particularly common in towns and cities that have Christmas markets. Generally speaking, all shops that do a brisk trade in the runup to Christmas stay open until at least 7 p.m.
Out of town supermarkets and shopping centres tend to remain open slightly longer in the period before Christmas, and in particular are open on Sundays (typically from 10 a.m. to 7 p.m - but it is always important to check locally).
In
Calais
, the Carrefour supermarket in the
Cité de l'Europe
near the Channel tunnel exit is open 8.30 a.m. to 10 p.m six days a week, and 9 a.m to 8 p.m on Sundays during the pre-Christmas period; there are special Christmas events in Calais, including a Christmas market.
Click for general information on
shop opening times in France
French wine for Christmas;
If buying in France, check out the About-France.com guide to
buying French wine
If not in France, or visiting without a car, buy online for delivery to the UK or other parts of Europe (except CH, IRL, SE and N) see
French wines direct
CHRISTMAS TRAVEL
French school Christmas holiday periods 2019 - 2020
Christmas holidays
From Friday 20th or Saturday 21st December after classes
to Sunday 5th January 2020 inclusive
Click here for
other French school holiday dates
.