Explore France ►
Essential pages
Travel in France
Where to go
What to see and do
About-France.com - the connoisseur's guide to France
Easily accessible from most parts of Western Europe, France as a country is an ideal destination for anyone wanting a short break or a long weekend away from home.
During the warmer months of the year, from April through to September, France's many provincial airports are served by low-cost carriers friom many parts of Europe, and in particular from the UK. For a full list of who flies where from the UK, see the
France airport guide.
But throughout the year, even in the winter months, in addition to Paris, half a dozen French cities are served by direct flights from many main airports in the UK and other parts of Europe. Lyon, Nice, Toulouse, Bordeaux and (Basel)-Mulhouse have year-round flights from many European capitals, and from a few other major airports too.
Lille
, with its museums and art galleries, can even be reached in just 1h22 by Eurostar from London St.Pancras, or in just 56 minutes from Ashford.
While Paris is the easiest choice, and the city with the most to offer, there are other French provincial cities that have more than enough to keep even the most demanding of weekend-trippers happy, even in winter.
Below is the About-France.com selection : ten of the best weekend ideas - seven cities and three areas, all easily reachable from the UK and many accessible from other parts of northern Europe too.
Seven

of the best city break weekend destinations in France ...
... and
three

more short break destination ideas

In the summer months, virtually any French city with an

airport

served by international flights (and there are about thirty to choose from) can be chosen for a short weekend break.

For the smaller airports in Brittany or in the south of France, visitors will probably want to hire a car (

low-cost car hire

is available at most airports) and book a few nights in a local hotel or b&b... and enjoy two or three days in the countryside, or on the beach, or exploring the local area.

8.

One area that is eminently suitable as a weekend break or short break destination with a hire car is the

Camargue

, which is within easy striking distance of four

airports

- Marseille, Avignon, Nîmes and Montpellier. With its UNESCO protected wetlands, its bird sanctuaries, its wild ponies, its rice paddies and its beaches, the Camargue is definitely a destination to make anyone feel that they've been somewhere different for a few days. Visitors can stay in the Camargue, at Les Saintes Maries de la Mer, or just outside it in the historic city of Arles.

9.

In the summer months,

Brittany

with its several airports and also its ferry services from Plymouth or Portsmouth, is easily acessible for a short break. Two towns worth heading for are Saint Malo on the north coast, with its historic walled city and its several tourist attractions is one good short break destination. Another, on the south coast, is the charming small fishing port of Concarneau, with again an old walled city, and plenty of beaches. From Concarneau there are also trips out to the Glénan islands
The Nord and Pas de Calais area
10.
Finally, it is important not to forget the opportunities for self-drive short breaks in the
North of France,
making the most of the short break fares offered by the main ferry companies, or even of a
train
from London. Within the area, both Calais and
LIlle
can be reached by direct train services from London St Pancras, Calais in less than an hour, Lille in about 1h20.
Within easy striking distance of Calais is the Côte d'Opale, with its chalk cliffs, long sandy beaches, and seaside resorts which are not entirely different from those on the English side of the Channel... though French, and far less crowded. The small port city of Boulogne is home to Nausicaä, the French national sea centre, which is a major oceanographic centre and aquarium. A bit further inland are the sites of historic battles that have been key moments in the life of France and England. Agincourt, Crécy, the Somme and other sites from the Great War.
►
For more ideas, see
North of France
area guide.
Gone are the days . when everything was shut in France on Sundays. Nowadays, most businesses and places that depend on tourism open on sundays, at least on Sunday morning. Museums and tourist attractions do good business on Sundays, and shops have their best day on Saturdays.
Some restaurants may be closed on Sunday evening, but in tourist areas and cities, others will be open.
In addition, except in the peak summer seasons, many hotels, specially the chains that cater a lot for business and professional travellers, offer better rates over the weekend than during the week.
Places to stay

Click to find a choice of hotels from Booking.com in or near best weekend-break towns in France.
About-France.com
is an affiliate partner of
Booking.com
and may receive commission on sales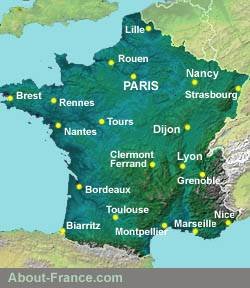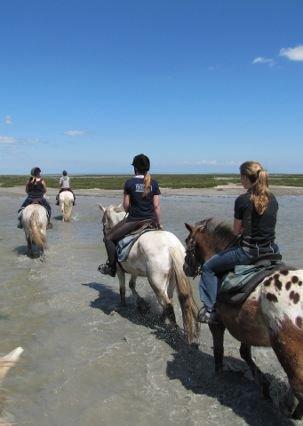 Horse riding in the Camargue natural park wetlands area
On the coastal footpath between Calais and Boulogne

Website text and photos © copyright About-France.com renewed 2022 -
unless otherwise stated