About-France.com - a thematic guide to France
A short guide to bird life in France
Hoopoes in the spring (Massif Central)

Compared to most parts of the UK, France is very rich in bird life. The main national French birdwatchers association, the

Ligue pour la Protection des Oiseaux

, or French society for the protection of birds, generally known as the

LPO

, has been actively campaigning to protect the country's rich birdlife for over 100 years. Founded in 1912, it is one of the country's best known naturalists' associations. (Website in French)
There are estimated to be 460 varieties of birds in metropolitan France, which is less than the UK; but in terms of absolute numbers of birds, France is surely well ahead of the UK. Human population density in France is half that of the UK, and a quarter of that of England, leaving plenty of wide open spaces and natural environment favourable to bird life. There does not appear to be any estimate on the total average bird population in France today, but it is probably well over the 166 million estimated as the bird population of the the UK (

State of the UK's birds

report, 2012). Reports suggest that bird populations have continued to decline in many regions of France (as in most parts of the world) since the start of the 21st century, notably in Mediterranean areas and the agricultural regions of the southwest; but in the sparsely populated uplands of the Massif Central, bird populations are generally on the increase. (Ministry of Ecology statistics 2009 - in French)
Seabirds
With its rugged cliffs and extensive coastline, Brittany is the region of France that is most interesting in terms of seabirds. But the Atlantic coast of France between the Loire and the Garonne, with its salt marshes, its fishing industries, its oysterbeds and its wetlands, is generally a rich area for sea and coastal birds. The coasts of Normandy and Picardy are also home to large numbers of seabirds, notably on the Cotentin Peninsula and the Baie de Somme.

Waders and waterfowl
The Baie de Somme is one of the significant wetland areas of France, attracting large numbers of sedentary and migrating waders and waterfowl. France has several other major wetland areas with interesting birdlife, most notably the Camargue and the Lac de Grandlieu reserve south of Nantes - but also inland wetlands or lake areas such as the Brenne, the Bresse and the Lac du Der in Champagne.
Two species of waterbird in particular have seen a dramatic increase in numbers in the last thirty years,

grey herons

and

cormorants

. Once fairly rare, both are now ubiquitous on France's rivers and lakes, to the point where they are in some cases threatening local ecosystems.


Birds of prey
Short-toed eagle in the Massif Central

Most of rural France, particularly the hilly areas, is rich in birds of prey, notably

buzzards

(

buses

) and

kites

(milans).

Generally speaking France's sparsely-inhabited upland areas are home to many more raptors, including several different types of

eagle

.
Among the most spectacular birds to see in France are the massive

griffon vultures

that have been reintroduced in the Alps and southern Massif Central (Tarn gorge area). There are now close to 1000 of these huge birds of prey in central southern France, and they are starting to migrate north into the Auvergne. See below for best bird-watching areas in France.


Lammergeiers

,

(gypaète barbu)

another type of vulture, can be seen in some parts of the Pyrenees, and are being reintroduced into the Alps and in the southern Massif Central. Their numbers are low, but increasing.
France is home to 40% of the

short-toed eagles

(circaète Jean le Blanc)

of Western Europe, with the largest populations in the Massif Central.
Other raptors increasingly common in France are hen harriers, Montagu's harriers, marsh harriers, most types of European

falcon

,

buzzards

and

honey buzzards, red kites

and

black kites

and

eagle owls

- among others.
With its rocky terrain, extensive woodlands, moors, sparse human population and medium altitude (500 - 1500 metres), the Massif Central (Auvergne, Limousin, Lozère, Aveyron) is the richest part of France for observing birds of prey.


Other notable birds in France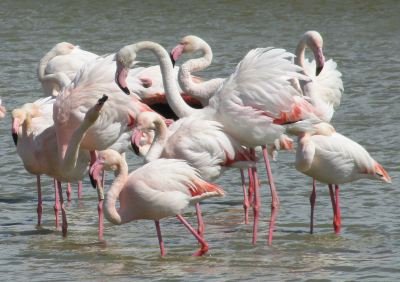 Pink flamingoes in the Camargue

Two birds have become emblematic of areas of France;

pink flamingoes

(flamants roses)

in the Camargue, and

storks

(cigognes)

in Alsace. Some fifty thousand pink flamingoes live in the Camargue wetlands at the mouth of the Rhone; while most migrate to warmer climates in winter, some 10,000 are now sedentary. In Alsace, the population of the region's emblematic bird, the stork, had fallen to just 9 couples in 1974. Since then they have been successfully reintroduced, and the region is now home to over 600 nesting couples - most of whom migrate south in winter.


Capercaillies

(

le grand téras

) can be seen in several massifs in France, notably the Pyrenees, the Cévennes and the Jura. But France is also home to many other types of birds, and depending on the location, bird watchers may well catch a glimpse of hoopoes, shrikes, different varieties of woodpecker, egrets, plus a good variety of finches, buntings and many other smaller birds.

Nine major bird sanctuaries and areas
Best bird-watching areas in France (pale) and major bird sanctuaries or sites (pink)

The following areas (listed north to south) are of particular interest to bird-lovers:

the

Baie de Somme

wetlands at the mouth of the Somme, in Picardy,
the

Lac du Der

in Champagne, eastern France, (migrating birds, in particular cranes),

Lac de Grandlieu

nature reserve, south of Nantes (Pays de la Loire). Waterfowl, migrants. The second greatest bird area in France after the Camargue, in terms of numbers of species.
the

Brenne

regional park in the Centre region, southeast of Tours
the

Dombes

wildlife reserve and centre in the Ain, north of Lyon, (waders and water birds),
the

Haut Allier

area in the Haute Loire department, south of Clermont-Ferrand in the Auvergne (raptors, eagles and many smaller birds),
the

Tarn Gorge

in the Aveyron / Lozere area of the southern Massif Central (raptors, vultures),
the

Teich

bird reserve near Arcachon, southwest of Bordeaux (Aquitaine), (ducks and geese),
The Camargue wetlands on the Mediterranean coast, with their ornithological reserve (flamingoes, waders, migrating birds)
.

Related pages

Copyright ©About-France.com 2008 - 2018