Explore France ►
KEY PAGES
Where to go
How to get there
More about France
About-France.com
- the connoisseur's guide to France
Driving through FRANCE to SPAIN
Covid-19 info.
May 2022 :
Spain's land border with France is open to road and rail traffic. This is not expected to change in 2022 unless a huge surge in infections leads to general European travel restrictions.
When driving through France, don't forget to carry a yellow fluorescent jacket...
All vehicles driving on French roads are obliged to carry a yellow fluorescent jacket, that must be put on if the driver has to get out in an emergency. (In Spain, it's one per passenger). The jacket must be stored in the car, not in the boot, and be easily accessible. Failure to carry the obligatory jacket may lead to an instant fine of up to 130 Euros, if stopped by police.
► See
French rules of the road
for full details on French driving regulations.
Important
: default speed limit on single-carriageway French roads is now
80km/hr
►ALL ROADS SOUTH LEAD TO SPAIN ......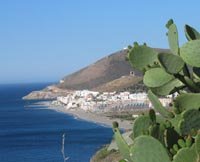 It's a long drive from the UK to Spain, and drivers heading south need to establish their priorities in terms of time, speed and cost. Motorway tolls between Calais and the Spanish border can vary between zero and over 100 Euros, (over 160 € for campervans) depending on the route chosen. Yet unless time is no object, paying a few French motorway tolls makes sense ; it will even normally work out cheaper on fuel than slavishly avoiding all tolls, given that stop-start driving through urban areas is very heavy on ruel consumption.
Trying to avoid all tolls is generally a pointless exercise even for motorhomes or campervans; driving hundreds of kilometres on slow roads with numerous towns and villages to negotiate is not the best way to cross France, unless you want to keep stopping to visit the sites on the way. There are more economical ways of driving to Spain than that.
There are four main routes south through France, and all of them lead to Spain. They all include long stretches of toll motorway, but three out of four also include long sections of road that are not toll roads.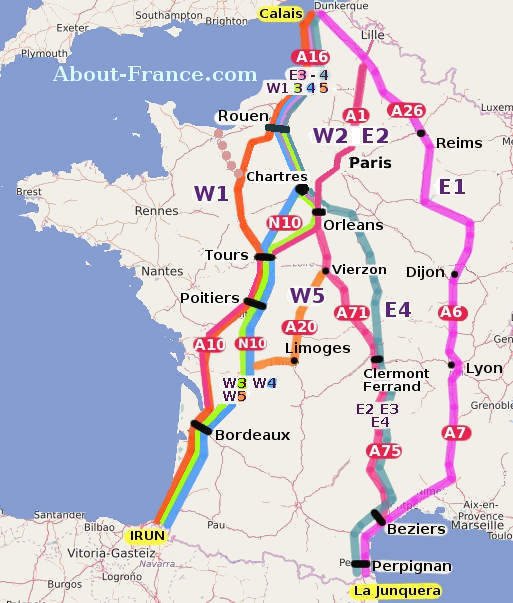 Hotels along the way

Click for best online rates for hotels near the following towns on
the main routes
through France.
Calais
Reims
Dijon
Beaune
Lyon
Rouen
Orleans
Tours
Limoges
Poitiers
Bordeaux
Clermont-Fd.
Other areas
About-France.com
is partnered with Europe's leading hotel booking portal,
Booking.com
, to bring you the best online prices.
Time, distance, tolls - compare the routes UK to Spain:
Eastern route or western route ? :
Eastern routes
are recommended for visitors travelling from the UK to the
Costa Brava
and anywhere on the Spanish Mediterranean coast north of Valencia. They cross into Spain south of Perpignan, at the border at Le Perthus / La Junquera and continue towards Barcelona.
Western routes
These are recommended for travellers aiming for
central or southern Spain
or
Portugal
. Routes to southern Spain via
Bordeaux
and Irun are actually shorter than those via
Lyon
and Perpignan. Western routes cross into Spain south of Biarritz, at the border at Irun and continue towards Zaragoza, Burgos or Bilbao.
Distances
indicated below are from Calais to the Spanish border.
Times are liable to be considerably longer on peak holiday Saturdays (July August), particularly on routes E1, E2 and W2
E1

►

All motorway, avoiding Paris. : Leave Calais on the

A 26

following signs for Reims. Then follow down through Reims, Troyes, Dijon, Lyon, Valence, Montpellier and Perpignan, to the Spanish border at Le Perthus.
See Route guide - Calais, Reims, Dijon, Lyon, Mediterranean


Toll

May 2022 ~ 114.60 €

Distance:

1253 km

Driving time:

about

11h 45.

E2

►

All motorway, via Paris. Leave Calais on the A 26 following signs for Reims as far as Arras. Then follow down through Paris, Orleans, Clermont Ferrand, Beziers, Perpignan. Motorway toll-free from Clermont Ferrand to Béziers, except for toll on Millau viaduct.
See Route guide - Calais, Rouen, Orleans, Clermont-Ferrand route


Toll

May 2022 ~ 85.20 €

Distance:

1162 km

Driving time:

about

11h.

(

Fastest route

if no delays round Paris)

W1

►

Fastest - all motorway or dual carriageway except through Rouen. Leave Calais on the A 16 following signs for Abbeville. Then follow down through Rouen, Alençon, Le Mans, Tours, (or Rouen, Chartres, Orleans, Tours) and the A10 to Bordeaux, Bayonne and the Spanish border.
► See detailed map, showing Route guide UK - Spain via Rouen and Bordeaux


Toll

May 2022~ 95.70 €

Distance:

1093 km

Driving time:

about

10h.10

.

Alternative route

: use Portsmouth Le Havre or Portsmouth Caen ferries for 150 km less driving in France (and less driving in the UK too if coming from west or northwest of London, as well as avoiding M25). Check with Brittany Ferries

W2

►

Like W1 but via Paris and Orleans, not Rouen


Toll

May 2022

~ 96.90 €

Distance

, about 1100 km - Driving time: about

10h30

.
But beware of delays round Paris
Cheaper routes to Spain
Tip: reduce your fuel costs
by driving less fast. Driving at
70 mph
(112 kph) rather than 80mph (129 kph) reduces average fuel consumption by a huge
15%.
.... the equivalent of
30 centimes less per litre
at 2022 fuel prices, or
18 € less
on the cost of a full tank of 60 litres.
Note: Motorway tolls
are based on May 2022 rates for cars.
For Car + caravan; add about 50%; for truck / HGV toll rates (class 4) : approximately three times the rate for cars.
Since the savings on fuel and on distance make the shortest routes an attractive proposition for HGVs (trucks), (notably N141 or N 10) they are not necessarily recommended for cars on weekdays. But HGVs are banned from the roads on Sundays in France, and there are far less of them on Saturdays.
---
► ► Beware of the "cheap ferries" scam
Some internet sites that announce "cheap" ferry prices are actually charging
more
than the Ferry companies themselves. Avoid dodgy websites; click to
book directly with ferry companies
See France
as you travel through......
Chartres

,
with its UNESCO listed cathedral, is a good stopping-off point on routes E3, E4, and W3 - W5
Bourges
: see the remarkable medieval sculpture and stained glass in the cathedral, a UNESCO world heritage site - routes E2 and E3
Bordeaux
- wine capital of the world. On all western routes
Paris
. On routes W2 and E2.
Tip
: stay on the
outskirts,
go in by train.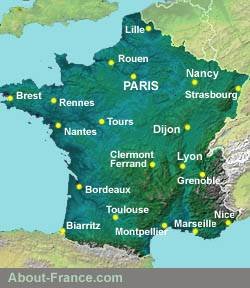 About-France.com is an independent user-supported website that does not track visitors and carries very little advertising, Links to carefully selected affiliate partner websites may generate commission on sales at no cost to the user.