Explore France ►
Essential pages
Travel in France
Where to go
What to see and do
About-France.com
- the connoisseur's guide to France
Tour postponed until 29th August
The organisers of the Tour de France have announced that the 2020 Tour will take place two months later than planned. Riders will set off from Nice on 29th August instead of 27th June. Full dates have been updated on the stage details and on the map below.
A Tour of eastern and southern France ...
While last year's Tour de France took place almost entirely in the eastern half of France, the 2020 Tour will be almost all in the southern half of the country and will not involve any stages outside France. With stages in the Alps, the Cévennes, the Pyrenees, the Massif Central, the Jura and the Vosges, it will also be a tour of all the main mountain regions of France.
See
stage details
below
Tour de France route map by About-France.com
Stage dates updated.
.
Click stage anywhere along the route

in France for regional tourism info
Copyright : If you copy this map on your blog or non-commercial website, you must credit it to About-France.com
An

UPDATED

GUIDE TO THE ROUTE


The main feature of the
2020 Tour de France
is that it is almost entirely in the southern half of France and that it will take in all the main mountain areas.
Eleven of the 21 stages of the 2020 Tour de France are described as hilly or mountainous, and only nine stages as being flat.
While last year's tour spent more time in the Pyrenees and less in the Alps, the 2020 Tour takes in only two days in the Pyrenees, while there are four finishes in the Alps and Alpine foothills. There is also a mountain finish in the Auvergne with riders finishing at the Pas de Peyrol (1589 metres), near the top of the Puy Mary.
The only time riders will go anywhere near the coast will be for the two days in the Charente Maritime.
Accommodation

for the Tour de France
All hotel rooms in and around the start and finish points get booked up very fast by the teams and the media.
To avoid disappointment, check out available hotel rooms as soon as possible, using the major online portals
booking.com
or
Hotels.com
,
Tour de France
2020 -updated stage details
The
2020
Tour de France starts on
Saturday 29th August
in Nice, on the French Riviera
Click links for guides to the regions and towns along the route of the 2020 Tour de France
Stage
Date
Day's route (towns, regions) and terrain
Length in Km.
1st stage
Sat 29th August
Lowlands around Nice
156
2nd Stage
Sun 30th August
Mountains around Nice
187
3rd Stage
Mon 31st August
Nice to Sisteron (Upper Provence)
198
4th stage
Tues. 1st Sept.
Sisteron to Orcières-Merlette
157
5th stage
Wed 2nd Sept
Gap to Privas (Rhône-Alpes)
183
6th stage
Thurs 3rd September
Le Teil (Ardèche) to Mont Aigoual (Cévennes)

191
7th stage
Fri 4th September
Millau to Lavaur (Midi-Pyrénées)
168
8th stage
Sat 5th September
Cazères-sur-Garonne to Loudenvielle (Pyrenees)
140
9th stage
Sun 6th September
Pau to Laruns (Pyrenees)
154
Rest day
Mon 7th September
Rest day near La Rochelle


10th stage
Tues 8th September
Île d'Oléron to Île de Ré (Charente maritime)
170
11th stage
Wed 9th September
Châtelaillon-Plage (Poitou-Charentes) to Poitiers
167
12th stage
Thur 10th September
Chauvigny to Sarran Corrèze (Limousin)
218
13th stage
Friday 11th September
Châtel-Guyon to Puy Mary (Massif Central)
191
14th stage
Sat. 12th September
Clermont-Ferrand (Auvergne) to Lyon
197
15th stage
Sun 13th September
Lyon to Grand Colombier (Rhône-Alpes)
175
Rest day
Mon 14th September
Rest day - Isère (Rhône-Alpes)
16th stage
Tue 15th September
La Tour-du-Pin to Villard-de-Lans (Rhône-Alpes)
164
17th stage
Wed 16th September
Grenoble to Méribel Col de la Loze (Rhône-Alpes)
168
18th stage
Thur 17th September
Méribel to La Roche-sur-Foron (Rhône-Alpes)
168
19th stage
Fri 18th September
Bourg-en-Bresse to Champagnole (Franche-Comté)
160
20th stage
Time trials
Sat 19th September
Lure to Planche des Belles filles (Franche-Comté)
36
21st Stage
Sun 20th September
Mantes-la-Jolie to Paris - Champs Elysées
122

Visit the
Official site
of the tour de France
A brief introduction to the
regions of France
Copyright © About-France.com 2007 - 2020 except where otherwise stated.
Page
READY TO PRINT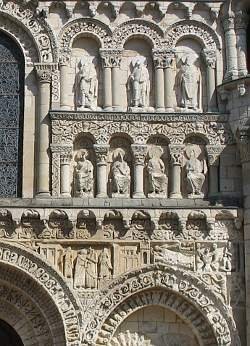 Intricate 11th century sculptures on the facade of Notre Dame la Grande in
Poitiers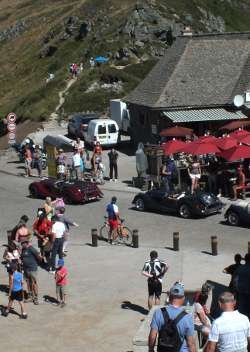 The Pas de Peyrol in the
Auvergne
mountains, where riders finish on 10th September, is a popular location throughout the summer months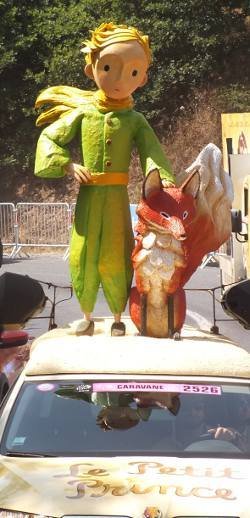 Part of the "caravan" - that preceeds the riders round the course.
France you don't know...
Discover
Offbeat France,
a selection of wacky sites and attractions that most visitors have never heard of !.