Explore France ►
Essential pages
Travel in France
Where to go
What to see and do
About-France.com
- the connoisseur's guide to France
Official historic monument logo
With
over 40,000
officially classified historic monuments, France has one of the densest concentrations of historic buildings and other monuments of any country in Europe. From great palaces and cathedrals to the tiniest of medieval chapels, Roman remains, or vestiges from the time of the Industrial Revolution, France has them all. And that is just counting the officially listed historic monuments. Apart from the 40,000 officially listed sites, many thousands more old bridges, barns, houses, chapels, villages, priories and private residences are historic monuments in all but official designation.
Top sites: the most visited historic monuments in France
(Source French national statistical office: includes only monuments visited primarily for historic and cultural interest, rather than other reasons.)

The top twenty most visited monuments in France
Notre Dame Cathedral, Paris (free)
Sacré Coeur basilica, Montmartre, Paris (free)
Gardens of the château de Versailles, near Paris (free)
The Georges Pompidou centre and museum of art, Paris
Notre Dame Cathedral

Strasbourg

(free)
La Villette science museum, Paris
The château de Versailles, near Paris
Mont Saint Michel, Normandy
Musée d'Orsay, Paris
Les Baux de Provence, near Avignon
Village of Riquewihr (Alsace) (free)
Notre Dame cathedral,

Reims

(Champagne) (free)
The Arc de Triomphe, Paris
Palace of the Popes,

Avignon,

Provence
Basilique de Vézelay, Burgundy (free)
The top 20 most visited monuments in France are not necessarily the twenty most interesting historic monuments in France. The most visited monuments are most visited because they happen to be easily accessible from the main tourist centres in France. For a much greater choice, visit
the Best of France
►

Here are a few more major monuments
that are just as worth visiting as any of the above:
The cathedral of St. Cecilia in
Albi
(Midi Pyrenees), the Chateau de
Chenonceaux
(Centre - Loire valley), the Royal saltworks at
Arc et Senans
(Franche comté), the walled city of
Carcassonne
(Languedoc), the cathedral at
Amiens
(Picardy).... , the amazing
Caverne du Pont d'Arc
museum in Ardèche (prehistoric cave paintings) and so many more.
For details by region, see
Tourist attractions in France by region
Historic French cities
Find hotels in France

Click for places to stay in or near....
Paris
Nimes
Arles
Strasbourg
Nice
Lyon
Bordeaux
Rouen
Chartres
Tours
Poitiers
Besançon
Other areas
About-France.com
is partnered with
Booking.com
, to bring you the best online prices
Here are the six most visited historic city centres among the major cities of France. Each of these cities is a regional capital, has a rich historic centre, and is very much worth the visit during a holiday in France or for a weekend break.
Paris

: one of the greatest concentrations of historic monuments on Earth.
Click for historic monuments in Paris

Lyon

: a historic ensemble, without any particularly great historic monument; the quays along the Saone have a similar ambiance to the banks of the Seine in Paris.

Strasbourg

: Old quarter, including "Petite France", half-timbered hoses, canals, and famous medieval cathedral

Nice

: the "old town" is a classic Mediterranean town in the Italian style; it was Italian until the eighteenth century. Very narrow streets, piazzas, old churches, and the famous flower market.

Rouen

: historic city centre, half timbered houses, great gothic cathedral, interesting mediaval clock tower.

Bordeaux

: great historic city centre, much of it dating from the eighteenth century.
These six cities are
by no means
the only - nor necessarily the most interesting - city centres to visit when on holiday in France. Many smaller towns and cities in France - notably some that are less important now than they were in the past - have city centres with remarkable collections of historic monuments.
Click for more ideas on the most
interesting and attractive historic cities in France
Historic areas with rich collections of monuments :
While the richest concentration of historic monuments can be found in Paris, the vast majority of historic monuments lie in the regions. And there are thousands of them .....
Here is a short themed selection: From north to south.
Northern France The great gothic cathedrals
See Best cathedrals in France.
In the 11th and 12th centuries, a new style of architecture developed in the kingdom of France. In the great cities of the kingdom, Paris, Chartres, Reims, Amiens, Rouen, Beauvais, bishops and benefactors vied with each other to put up the finest greatest cathedrals in the new style, which we now call "gothic". Photo: Notre Dame de Paris.
Main regions: Champagne, Ile de France, Picardy, Normandy

Northeastern France: Military fortifications


From the 16th century to the 20th, France was constantly wary of invasion from the east. As a result, eastern France offers many magnificent examples of military fortifications, from Vauban's fortifications at Neuf Brisach or Besançon, to the bastion at Sedan of the few remaining traces of the Maginot Line.
Main regions; Lorraine, Alsace, Franche-Comté

Northwestern France: medieval castles and fortresses


In medieval times, the kings of France, and their vassal dukes, such as the dukes of Normandy, Anjou and Burgundy, built massive fortresses to ensure their feudal power and demonstrate their strength. Though impressive medieval keeps can be found all over France, the northwest quarter is particularly rich. Among the most famous are the great castles at Angers Loches or Chinon (Loire valley), the castles at Fort-la-Latte, Fougères (photo) and Suscinio (Brittany), or Falaise and Chateau-Gaillard (Normandy)

Central France - The châteaux of the Loire Valley


See Châteaux of the Loire.
A hundred miles southwest of Paris, the Loire valley, at the time of the Renaissance, was covered by large expanses of forests, royal and aristocratic hunting grounds. Beginning in the fourteenth century, kings, princes and noblemen built fabulous castles and stately homes here, to entertain their guests and friends. Among the most famous and most visited are Chambord, Chenonceau (picture), Azay le Rideau, Amboise and Blois; but there are dozens more to choose from, big and small, some of them still occupied as family homes.
Regions: Centre, Pays de la Loire

Central France - the Châteaux and towns of Burgundy.


Burgundy offers a rich concentration of historic monuments, including a large number of châteaux, but also historic towns and some of the oldest churches in France, as St. Philibert in Tournus, the cathedral at Autun, and the pilgrimage basilica at Vézelay. Region: Burgundy
Central southern France: the romanesque churches of the Auvergne
Auvergne is another region where medieval architects and craftsmen built hundreds of decorated churches and chapels; many still survive. From the tenth century chapel of St. Michel de l'Aiguilhe in Le Puy, to the great romanesque basilicas of Brioude or Issoire with their decorative medieval stonework, and countless small village churches, the area is rich in monuments dating from medieval times.
Region: Auvergne.
Southwest France: The prehistoric caves of the Dordogne
Caves and cave paintings; including Lascaux, the Grotte de Villars near Brantôme, Font de Gaume, and Les Combarelles. At Lascaux, visitors go down into a perfect replica of the original caves, which have been closed to the public for reasons of conservation. In other sites, the original caves, with their paintings and carvings, can be visited. there is a major museum at Les Eyzies.
Region: Aquitaine. Further information: see Prehistoric France and River Dordogne area.
Southwest France The romanesque churches of the Saintonge
Around the 12th century, villages vied with each other to produce the most ornate sculped doorways, capitals and corbels. A good map is needed to discover many of these gems; there are so many of them in this area, that some are not even signposted. Photo: corbels on a Saintonge village church
Region: Poitou-Charentes
Southwest France: the bastide towns
In the thirteenth and fourteenth centuries, the plains of central southwest France were very much France's weak underbelly. The area was very sparsely populated, and liable to attack, not just from a possible Moorish invasion out of Spain, but from Aquitaine which at the time belonged to the Kings of England. In order to populate the area and make it safer, both the French and the English built up networks of small fortified towns and villages, many of which survive to this day as small - even tiny - townships with fortifications and many old buildings.
Regions: Aquitaine, Midi-Pyrenées. More details: see bastide towns
The south of France Roman sites in Provence and Languedoc
The area now known as Provence was in roman times "Provincia", the most prized province of the Roman empire. The Romans stayed for several centuries in this area, long enough to populate it with a concentration of towns and cities as dense as the area round Rome itself. Amont the magnificently preserved monuments are the Pont du Gard Roman aqueduct, the Roman arenas of Nimes and Arles, the Maison Carré in Nimes, the Amphitheatre and triumphal arch in Orange, and many more. See Roman France .
Regions: Provence, Languedoc. More details: Provence heritage
Tourism in France by theme:
To make the most of a holiday in France, follow these links for a thematic approach to touring in France, and the main things to see and do in the French regions:
By region
A short guide to the
regions of France
It would be impossible
- and indeed pointless - to draw up a list of all the historic monuments in France. The aim of this guide is to help visitors, tourists and anyone else, to discover the essential historic heritage of France, and - through the regional guides - some of the less well-known sites and monuments. But this can only be a start.
Ultimately, to make a full discovery of all the historic monuments - listed and unlisted - that an area has to offer, it only local knowledge, handouts from local tourist offices, and personal experience that can really produce the results.
---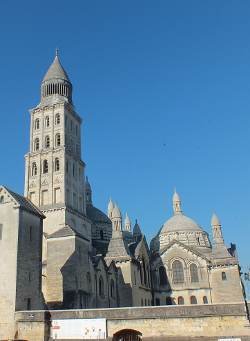 St Front's cathedral - Perigueux. The Byzantine-Romanesque tower is the oldest cathedral tower in France, nearly 1,000 years old
This page covers continental France but does not include historic monuments in French overseas departments and territories . In no way is it a complete guide. While all of the "most visited" historic monuments in France are among the best and most interesting historic monuments that France has to offer, there are also many other magnificent historic monuments that are off the beaten track, and consequently far less visited than they would be if, for example, they were just outside Paris.