First things first: preparing your journey

Passport or ID card? Citizens of the European Union can travel to France on a national identity card, if they have one. EU citizens who do not have an ID card, and citizens of other countries, must be in possession of a valid passport. Visitors from non-EU countries may need a visa, depending on the length of stay and their country of origin. Visas are not required for citizens holding residence status in any other "Schengen" country, whatever their nationality. For the purposes of a short trip (less than 90 days), visas are not required for visitors from the

United States, Argentina, Australia, Brazil, Chile, Japan, Mexico, New Zealand

, Venezuela and several other countries. For a full list of visa requirements for short or longer stays, visit the official French foreign ministry website in English.


Travelling to France by car: (Click here for

►

Driving in France). Travellers coming from the UK: it is usually sufficient to just turn up at a ferry port or the channel Tunnel, and buy a ticket for the next crossing. However, this is not advisable in the peak holiday season, or at busy weekends. Besides, it is often possible to shop around and get a cheaper price, if you book in advance. Click here to compare ferry price offers and book online. Driving to France from most other neighbouring countries (Belgium, Luxembourg, Germany, Italy, Spain) is no problem at all, as systematic customs and border controls have been abolished within the Schengen area, and traffic flows smoothly across these borders. Customs and passport controls may slow down traffic across borders from Switzerland, though this is not usually the case. The border crossing from Andorra can be very slow, if customs decide to check cars for contraband, notably duty-free cigarettes, as they often do.

Other points

Continue now with part 2 : Choosing a holiday



Holiday travel insurance:


It is highly recommended, and in some cases obligatory, to be insured when you travel. Many people have existing policies, or even credit cards, that include travel insurance, but it is always a good idea to check. Make sure that you have accident and emergency cover, including civil third party liability cover (for humans, as well as your car).

It is particularly important and usually necessary to take out special insurance if you plan to do anything out-of-the-ordinary while on holiday, such as winter-sports or other types of sport.


Copyright notice: Website and text © About-France.com 2003 - 2017 except where otherwise indicated.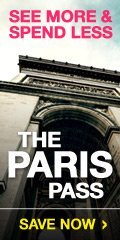 Extra special offer
with About-France.com
Click here then
SAVE 10% on Paris Passes
Use code
ABOUTFRA